A clear workplace visitor policy ensures that anyone who sets foot into your office space feels and is safe. That your confidential data stays…well… confidential, your visitors feel welcomed, and your employees know what they should do.

Basically, such a policy put in writing sets both visitor and employee expectations:
Your visitors know what they should do before and upon their arrival
Your employees know what it's expected of them to do in terms of handling the visitor experience.
Or let's just say that without a solid visitor policy, you'll open the door to confusion and chaos. Literally…

In this post you'll learn:
What a visitor policy for workplace is
Why you need one
What crucial elements every great visitor policy contains
How to implement yours
Let's dive in…
TL;DR:

A workplace visitor policy is a set of rules and guidelines that apply to guests coming into your office area and to the employees welcoming them, checking them in, and hosting their visits
It helps you set out clear expectations for your employees on how they should manage the visitor experience
And it also ensures you'll deliver a welcoming, professional, and consistent visitor experience
By including information and clear guidelines on what type of visitors are allowed in the workplace, in what areas, during which hours, the check-in process, and protocols they (and your employees) should follow, you'll make sure that both your guests and visitors are safe and your confidential information stays… well… confidential
What Is a Workplace Visitor Policy?
A workplace visitor policy is no more than a written document that specifies, clearly, who's allowed in the workplace, what they should and what they're allowed to do while there.

But you can add further information and company-specific details that'll eventually make it your visitor policy.

Specific information like:
What protocol visitors must use before entering the building (e.g. checking in at security,

parking in a specific

, visitor area)
Who can go where while inside the building
What time they can arrive and leave at
How long they can remain in your workplace per visit
What they're allowed to do while there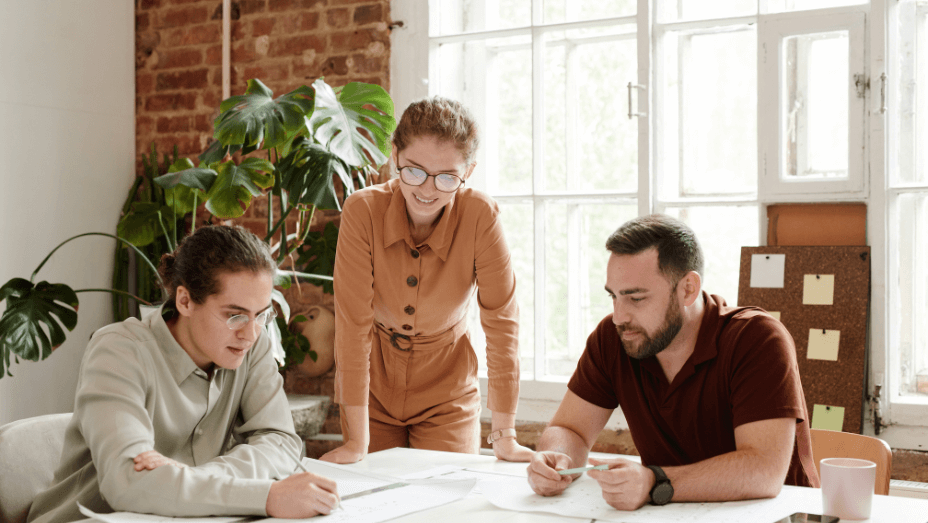 Why Does Every Workplace Need a Visitor Policy?
Because every company wants to ensure the safety of its employees and visitors while delivering a professional and welcoming experience to the latter.

And you're no exception, right?

Now, let's take a closer look at these key reasons why you'll want to draft your own visitor policy template:
Because You Want to Keep Your Employees and Visitors Safe
And to protect the property inside your office building. To keep your confidential information… confidential.

And you don't even need to go as far as considering scenarios of criminal activity.

The most common thing that you want to protect your employees from is… unnecessary distraction, right?

Having their attention drawn by people coming into your building wandering around, lost and confused. Asking for information, interrupting meetings and deep work sessions maybe…

In this respect, a clear workplace visitor policy will state clearly:
who can enter the building
who will be greeting the incomers
who can host visitors in the office building (which roles, teams, individuals)
what areas in the building they get access to and under what circumstances
Because You Want to Create a Welcoming Experience for Your Visitors
Yes, you want to make sure that employees, confidential data, and your guests themselves are protected.

But you also want to make every office visitor stepping foot into your building — potential business partners, job candidates, clients, service providers — feel welcome the moment they step into your lobby.

To be greeted and assisted promptly and effectively.

And that's what a workplace visitor policy will help you achieve, since:
It specifies exactly who is assigned to greet your visitors (whether it's the employee at the front desk or other people in your company, depending on the type of visitor)
It details the exact procedure for checking-in visitors (e.g. they should be handed badges for entering certain areas of the workplace) and connecting them with the appropriate staff members
Because You Want to Save Time
Simply put: you don't want your team to lose too much time (and effort) coming up with solutions to various scenarios every time someone pops up at your workplace.

With a crystal clear workplace visitor policy available, they can just follow the guidelines and rules outlined there and save both valuable time and effort.
Because You Want to Deliver a Consistent Workplace Visitor Experience… Every Time
A consistent visitor-first experience, that is.

And if you ever walked into an office lobby and:
the person you came to see wasn't there
there was nobody in the lobby area to give you any kind of information (to greet you and welcome you in)
the lobby's so crowded you start to question how much time you'd be spending there before your meeting will actually begin
… you know that the first impression on any workplace visitor is critical.

And almost irreversible.

A strong reason for you to put together a solid visitor entry procedure that sets the right expectations for every member of your team regarding the "protocol" for managing the workplace visitor experience.

It'll clearly describes guidelines on:
notifying the due host when a visitor comes in
handing the visitors photo ID badges
signing them in
In short, make sure they feel welcome and confident that they're all set for the meeting. That they know what are your expectations, as a (host) company, from them.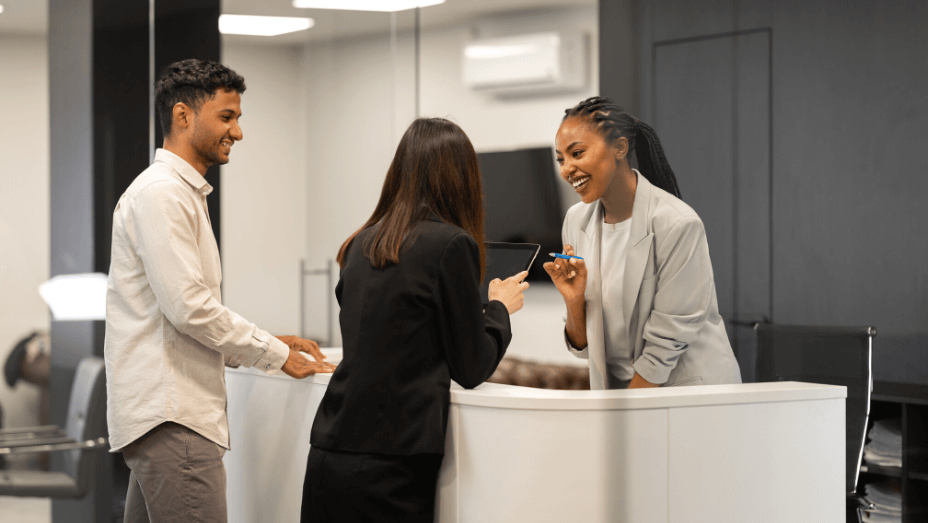 Key Elements of a Workplace Visitor Policy
Now that you have your key "Whys", you want to know what exactly to include in your visitor policy template.

Or, to put it this way: what essential sections you don't want to leave out of your visitor policy for the workplace.

Here are 7 critical points that'll give you a solid backbone:
Scope

You'll want to make it clear in your policy exactly what employees make its subject.

Does it apply to on-site, full-time employees only? Or does it extend to those remote ones coming to the office at certain times?

And it's in this same section that you want to outline the rules for all the different types of visitors coming to your workplace: vendors, clients, family members of your employees, job candidates, contractors, service providers, etc.

Clear Authorization Procedures

Next, you'll want your workplace visitor policy to include clear guidelines and rules on how to authorize visitors coming to your workplace.
Here's a possible scenario:
First, the employee answers, via email, the visitor's request to meet him/her
Next, a confirmation email is sent to the front desk to validate that the person visiting and the visitor who sent that request, via email, are the same person
Then, the office visitor receives a one-time password on his phone for authentication
Lastly, the visitor needs to present valid proof of identification for verification

Access Restrictions

You want your visitor policy template to include clear information about the areas in the office that visitors are allowed to enter, beyond the lobby.

For instance, they might be allowed in the conference room but not in the back offices. Or in any room in your office space storing confidential data.
A Visitor Record

You want to know who is in your workplace at all times.

In this respect, outlining a sign-in procedure (along with the step of verifying the visitor's proof of identification) in your workplace visitor policy will help you keep good track of all your incoming guests.

Note! A digital visitor log will make it so much easier to access your visitor record anytime in the future. Plus, it takes confidentiality risks out of the picture.
Visitor Types

Why is adding this section to your visitors policy critical?

Because you'll want to handle the different types of office visitors… well… differently.

For instance, you'll want to have a different visitor management procedure for family members of your employees visiting your workplace compared to… the one for contractors.

Or job candidates coming in for interviews.

Also, consider adding clear information regarding the status of "other" types of employees, too. Like those coming to the workplace outside working hours.

Or former employees coming in as guests, for instance.
Check-in Procedures

A clearly detailed, full-step check-in process.

This is another key element that your visitor policy should include.

To make sure you'll describe the procedures thoroughly, keep in mind to include answers to these questions in your policy:
What should each guest do upon arrival (e.g. sign themselves in at the front desk)?
What information should the guest include in that fill-in form?
Will they need to wear a badge? All the time and in all areas of the office or are there exceptions to the rule?
Having a check-in procedure in place, clearly outlined in your workplace visitor policy, will help you avoid all those situations where you end up with a crowded lobby.

And it'll help you:
Deliver a great visitor experience
Deliver a

great employee experience

, too, since your receptionist will be free to handle other tasks and other employees will be free of unwanted distractions
Guidelines for Escorting Visitors

What employee(s) will be escorting the incoming guests? And what are their own responsibilities?

It's critical to have these types of expectations clearly set in your visitor policy for the workplace.

For you definitely don't want your visitors to wander around your workplace on their own. For reasons of employee safety, property protection, and the visitors' own safety, too.

Set out clear responsibility for the employees escorting your office visitors regarding:
the fact that they should make visitors comply with your internal policies
that they should be escorting visitors out in case of emergency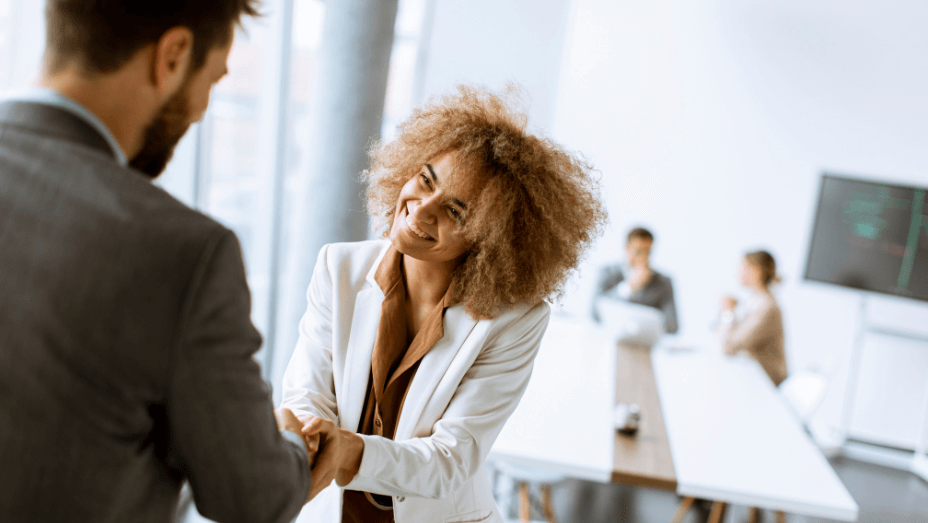 How to Implement Your Workplace Visitor Policy?
You have your clear, solid, and perfectly adapted to your own needs visitor policy. But it's no more than a… document before you implement it.

So now, with your "fresh out of the press" visitors policy at hand, where do you start?

First, you want to spread the word about it. To communicate it to your employees.

Make sure you turn these announcements into discussions. That you spark conversations with your team(s).

This is the perfect time and opportunity to identify any cracks and issues in your policy that you might have overlooked. Or you haven't detailed it clearly enough.

First, let them know:
That such a workplace visitor policy exists now in your company
The reasons why it was put together (here, you'll want to focus on the benefits impacting them directly, such as safety, and reducing distractions)
Where they can access it

Next, organize short training sessions to go over key sections of the policy.

This is when your employees can ask questions, raise issues, and where you can collect valuable feedback that'll help you make the necessary updates to your workplace visitor policy.

And last, implement a visitor management system.

At this stage, you'll want to bring a visitor management software into the picture for the actual implementation of the policy.

But more about this in a second...
Visitor Management System for Safety, Compliance, and Exceptional Visitor Experience
A visitor management software will help you:
Boost productivity in your work environment
Keep better (and easier) track of who was and is in your workplace at any given time
Streamline the entire check-in process
Create the best first impression: giving your visitors the chance to sign in with a digital tablet (as opposed to a paper visitor log) will portray your

company as a paperless, tech-forward

one
Ok, and how do you choose the right VMS?

Simple! You make sure your winning option comes in with a:
straightforward visitor registration system: as straightforward as… 123; no need of more than 3 steps for your guests to take to sign themselves in
short compliance questionnaire that makes collecting the needed information to be in line with regulations a breeze
feature that enables your employees to

book meeting rooms

right from the lobby; like a digital reception software for super quick and easy check-in: your employees just scan a unique QR code and confirm their presence in the building. As simple as that.
And Yarooms visitor management system checks all these must-haves off your list.

Plus, it provides you with a branding-friendly, easily configurable interface, too. So you can create a 100% branded welcoming experience for your visitors, right from the check-in.


Let's just end by saying that without a workplace visitor policy:
Your employees will be forced to come up with their own rules
Your visitors will have a chaotic experience; they'll even feel unrecognized and confused
You risk creating a potentially unsafe environment
And this is precisely what following these steps in drafting and implementing your visitors policy will help you avoid.

Instead, a visitor policy for the workplace ensures your guests feel welcomed, safe, and prepared. And sets clear expectations for your employees, too.

All while keeping them safe and protected from unnecessary distractions.

Just curious now: what 3 sections are you planning to make "top of the list" in your office visitor policy?