Meeting room scheduling technology lies at the intersection of hardware and software – room scheduling displays on one side, software that integrates with calendars and room analytics on the other. Professional meeting room schedulers empower office managers to plan future utilization and employees to make better use of the available space. They provide important data on how often rooms are occupied, help plan for possible expansion, and make the workday more efficient for all. But what are these systems that support business operations so seamlessly, and how do they work?
What Is a Meeting Room Scheduler System?
Meeting room scheduling systems provide simple tools for reserving meeting rooms in an office or shared workspace. They maintain a centralized database that contains information about all the rooms that can be booked, such as the number of rooms available, their current status (free or occupied), and slots available for future use. Simply put, meeting room schedulers bring structure to the workplace by facilitating the process of booking meeting rooms.

By keeping a real-time schedule of room availability, schedulers help avoid unfortunate events, such as no rooms available or overlapping bookings. The software provides a shared view of all the available rooms, showing whether they are in use or claimed for a specific time in the future, and is often paired up with additional hardware – such as display screens placed in front of the rooms showing current and future usage.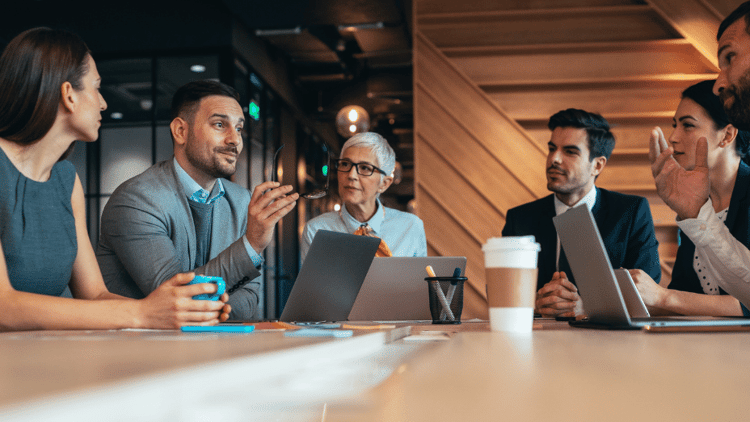 Thanks to the schedulers' integration with calendaring and email software, organizers and participants can see or manage details, such as time and location, and send out electronic invitations. In addition, office managers can get an accurate and up-to-date view of company resource utilization at any time. Using permission settings, they can restrict access to scheduling tools to avoid confusion and ensure appropriate use of resources when needed.

In a nutshell, meeting room schedulers provide an overview of available meeting rooms, synchronise with employees' calendar and email tools, enable them to book available meeting rooms and invite participants, and give office managers the tools to modify user permissions. And, since the average US employee attends 62 meetings per month, how to improve the meeting culture in organizations is an essential question for workplace productivity.
Meeting Room Types
One might think that, given the fast pace of life today, people are having less meetings. That couldn't be further from the truth. Organizations continue to be incredibly information-intensive and collaborative, and the need for meeting rooms keeps growing. But what makes a meeting room? Is it a space furnished with a long table and lots of chairs around it? Or one with beanbags and a ping-pong table in the corner? Well, the answer is: both. There are different room types that can be used for meetings, such as…

The traditional conference room, featuring a large rectangular table with at least 10 formal-looking chairs. This setup tends to create quite the distance between participants, unfortunately. Such rooms work very well for monthly board meetings, but not for common meetings with just a few participants. And yet, it's not uncommon for 1-2 people to sit in a room suited for more than 10 people…

Then there's the huddle room, or huddle space. These are small, private spaces that seat only a handful of people. They're great for quick, impromptu meetings and collaborative work. Multiple small rooms are more space efficient than a few large conference rooms. Employees can then choose the ones they like best – which can only contribute to overall job satisfaction!

To avoid disturbing colleagues in an open-plan office, it's important for employees to have access to segregated areas for phone calls or online meetings. Enter the phone booth / call pod. A phone booth is a small space that keeps the noise out, making it great for phone calls and video conferencing. One can talk privately without disturbing anyone – no wonder they're so popular!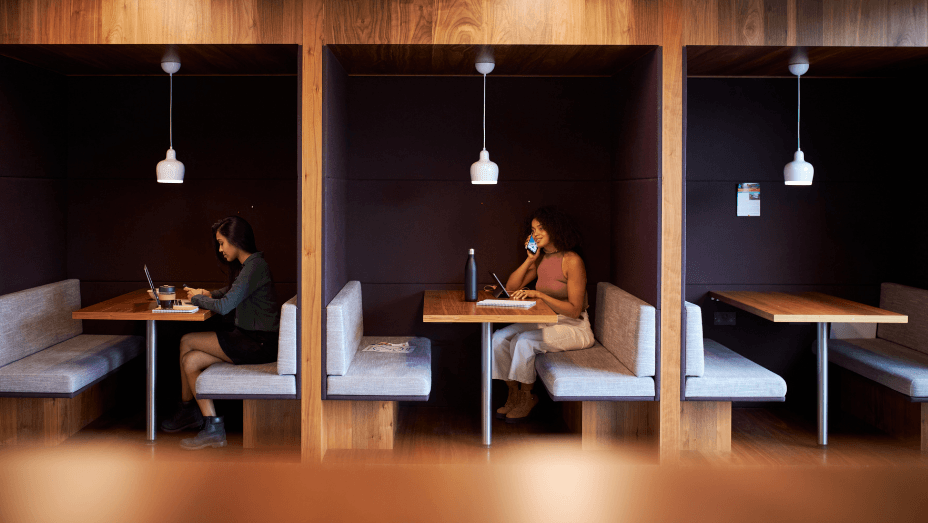 How It Works
An efficient meeting room scheduler software helps employees easily access the rooms they need, while maximizing use of the office's space. It does this by connecting the office system (such as G Suite, Microsoft Exchange or Office 365) with a physical device (a meeting room display). Then, all you have to do is…

Find a room. It sounds simple, because it is. Meeting room displays (or managers) are screens outside the meeting rooms that indicate their availability (for example, through different colors) and prevent disruptions in ongoing meetings. They can also show the duration of ongoing and upcoming meetings.

Check in. Avoid no-shows or "ghost meetings" (empty booked rooms where no one showed up) by enabling the check in function. If a meeting isn't "checked in" within a certain amount of time, the booking will be cancelled and the room will be made available.

Free up space. No longer need the room? No problem. If a meeting ends earlier, you can release the room and free up space for others on the room display. You can also extend your booking if a meeting takes more time than expected (as long as there isn't one booked right after).

Rely on an overview screen. Overview screens show several meeting rooms on one single screen, giving everyone an instant overview of what rooms are booked and saving them time, since they don't have to go and physically search for one.
Why Should I Invest in a Meeting Room Scheduler?
When the frequency of meetings increase, so does the competition of meeting rooms – and did you know that time spent in meetings has actually increased with around 10% every year since 2000? With a meeting room scheduler, you can easily eliminate room hoarding and wasted meetings, and improve meeting culture. If this isn't reason enough, let's take a look at a few more…
Make Meetings Easy to Find, Book and Schedule
Arriving to your booked room that's already being used by someone else or having people lingering outside your room can negatively impact your productivity. Such situations lead to unhealthy competition over meeting rooms, resulting in overbooking, setting recurring meetings, and rooms booked far in advance. Time to reduce friction and ensure that meetings are about collaboration, not competition.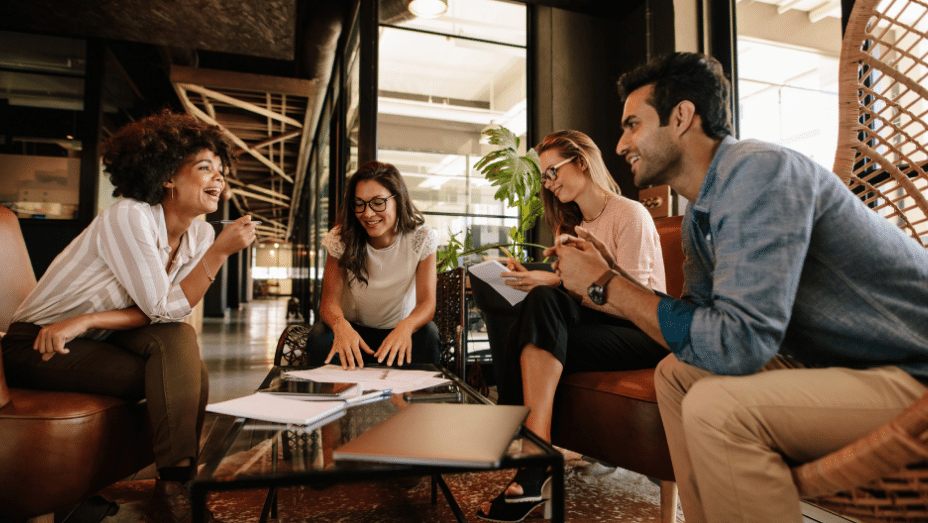 Infinitely Customizable
Room displays help employees see room availability, search for rooms on a visual floor plan, and even book directly on the display. They can be integrated with the calendar of the existing email client – so if you book a room on your calendar, it will also show up on the room displays and vice versa. Some offer a phone app to complement the room displays, so users can book a room anytime, from anywhere.
Implement Quickly
New technology can feel challenging, but a meeting room scheduler is usually very easy to implement! To ensure that your digital transformation is successful, create an implementation plan to familiarize employees with it. Have them ask any questions they have about the new scheduling system and show them how it can improve their workday.
Focus On What Matters, Not Room Logistics
Email clients such as Outlook or Google Calendar are not designed for physical meeting bookings. An email client cannot automatically handle last-minute cancellations and no-shows; the meeting organizer must return to their computer to cancel the reservation. A scheduler can bridge the gap between the digital and physical worlds, allowing employees to focus on work, not on searching for and managing rooms.
Make Decisions Based on Data, Not Just Instinct
A workplace analytics tool (included in a meeting room scheduling software package or offered as an add-on) helps you identify patterns based on data such as room utilization, number of meetings per month, average meeting duration and number of attendees, even no-show rates! Such insights can help you optimize existing spaces and guide future office design, and take the guesswork out of it altogether!
Discover More Space
Competition over meeting rooms can be a problem. One contributing factor is rooms that are available (due to no-shows) but are occupied on the calendar, because people forget to cancel their reservations. Other factors include recurring meetings, where the room reservation is still on the calendar, and double-booking in shared office spaces where employees use different calendar systems. A scheduler can help.
How to Choose a Meeting Room Scheduler
When comparing meeting room scheduling solutions, there are numerous key characteristics to take into account. Let's split them into software and hardware to make things easier:
Software
The user interface. The usability of a meeting room scheduler is very important. Check if your scheduler of your choice is intuitive and whether you can see future bookings. Pay close attention to how the information is displayed on the screen – is it easy to understand?

The check-in feature. It's that easy to increase room availability and avoid unused rooms! All you need to do is have participants check in their meetings when they arrive. Otherwise, they lose their reservation after a certain number of minutes and another employee can book the room.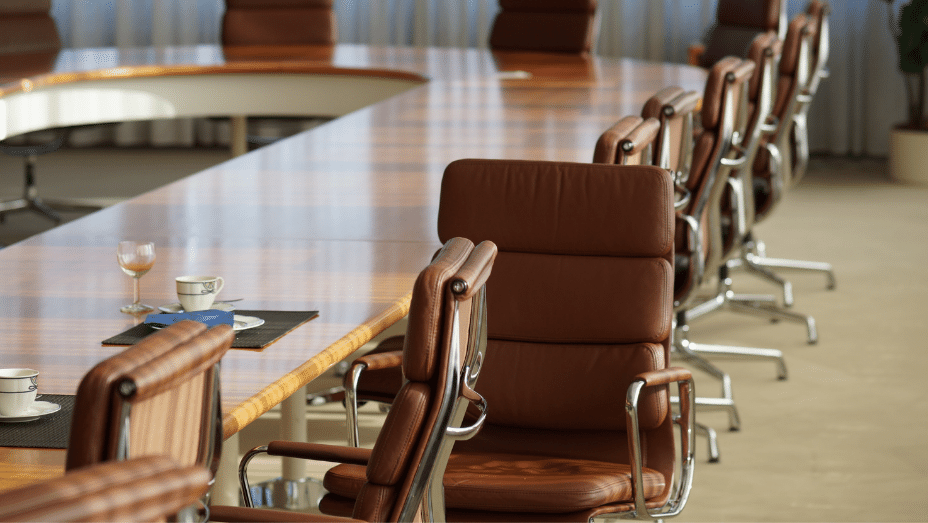 The extend / end early functions. Sometimes you need a few extra minutes to wrap up. An extend meeting feature (on the room displays and the app) should let you add extra time to the booking. An end early feature should also make the room available to others if you finish early.

Floor plan maps. Interactive maps of office floor plans are great for companies with many office buildings and meeting rooms, as they offer an overview of the entire space. They can be used to find and book available meeting rooms, and to help visitors or employees from other offices navigate by themselves.
Hardware
Digital signage. Digital signage is a screen of any size, that displays any type of content. It's connected to a content management system or software that sends the data to be displayed. A common digital signage product is the meeting room display placed outside a meeting room to indicate availability.

RFID/NFC reader. RFID (Radio Frequency Identification) and NFC (Near Field Communication) are two wireless technologies for user authentication – usually with cards or tags. Both work with radio signals and can be used to book meeting rooms and manage room bookings. NFC is a newer version of RFID.

Touch or traditional screen. A display without a touchscreen can only show information, but you can't interact with it. With a touchscreen, on the other hand, you can book a meeting room on the spot and make changes to an existing booking. Talk about the full potential of a room management system!

Connectivity. While many room tablets are battery-powered and connect to WiFi, some room displays also support PoE (Power over Ethernet), where the network cable doubles as a power source. No more charging batteries, and the internet connection tends to be more reliable! Plus, PoE is usually faster and more secure.

We know that meeting rooms can be a source of workplace frustration, but it doesn't have to be that way. With YAROOMS you can begin to make the most out of your meeting spaces. The Outlook integration makes it easy for employees to use the Microsoft suite to book rooms in seconds, and the meeting room display shows a calendar grid for all rooms – easy to see what rooms are available at a glance! The best part? You won't have to search for times and locations and hope you find space ever again. That's a promise.