In the last few years, companies have realized how a flexible workplace can benefit them, so they started transitioning into these new work arrangements. One of the biggest workplace features that changed were desks. Assigned seats and permanent desks are no longer the norm in offices. Instead, desk sharing was introduced.
TL;DR:
Desk sharing is a flexible seating arrangement using desk booking software for employees to reserve a desk on a rotating basis.
A robust desk reservation system should include visualization of the office space, mobile app booking, and integration with communication platforms.
A workplace experience app that offers nearby amenities can improve employee satisfaction and productivity.
To maintain a clean shared desk environment, encourage cleanliness by providing nearby trash bins and cleaning supplies. Also, create a desk checklist to keep the area organized.
To improve productivity and engagement, incorporate office space planning and provide adjustable-height desks and seating options.
Determine the ratio of shared desks to assigned desks based on team job functions and use wireless technology for maximum flexibility.
Create rules and etiquette for the shared desk environment, including a BYOD program, and gradually introduce the arrangement through a pilot program.
What Is Desk Sharing?
Desk sharing is a flexible seating arrangement between two, three, or more employees where they can reserve a desk on a rotating basis. Instead of having permanent desks, employees can select a desk or workspace each day they come in. Once they've finished working, the desk becomes free and available for another employee to book it.
In a shared desk arrangement, your business assigns one workspace (e.g., a desk and a chair) to multiple team members. Those team members take turns working different shifts or working remotely so that only one person occupies the desk at any given time. There are many ways to organize a shared desk between team members, and it all depends on the number of your employees, the shifts they work, and whether you offer a flexible working model or not.
Desk Sharing Vs. Hoteling
Hoteling is a workspace seating arrangement where you assign a specific desk to a specific team member for several days, weeks, or months, so that he has exclusive access to that desk for the duration of the time assigned.
When compared to the shared desk system, hoteling is much less static. For example, team member A may occupy desk 1 for two weeks and then transition to desk 2 for a further two weeks. Team member B may occupy desk 3 for five days and then transition to desk 6 for a month.
Desk Sharing Vs. Hot Desking
With hot desking, workspaces are occupied (or allocated) on a first-come, first-served basis. Desks, tables, and chairs have no permanent owner, and team members choose whatever is available that fits their needs. Because of that, who is working where can change at a moment's notice. Even more, these changes tend to occur several times per day as employees switch from one workspace to another.
If a shared desk assignment could last years, while hoteling can stretch to multiple months, hot desking, on the other hand, allows team members to change where they work from day to day and even hour to hour.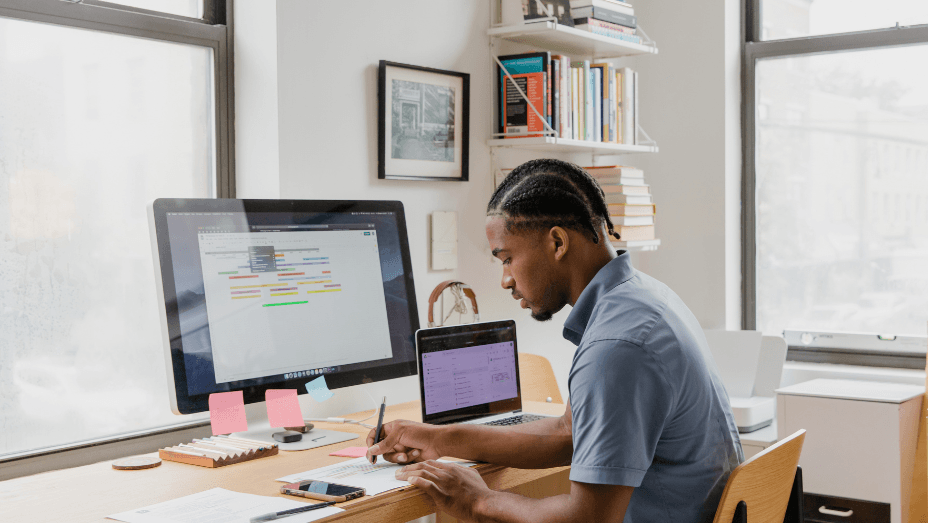 20 Desk Sharing Best Practices for Flexible Workplace
1. Implement a Desk Booking System
To start solid, you need to set up a desk reservation system that makes it easy for employees to book a shared desk. A user-friendly, intuitive desk booking software will enable your employees to know exactly which desk they will be sitting at for that day.
If they find that someone is already sitting at their reserved desk, they can either kindly let their teammate know that they've reserved that desk or use the app to quickly select a different one. With a desk booking app at hand, your employees can easily find a new desk that suits their needs and won't have to dispute over spaces.
Here's how you can best benefit from an efficient desk booking system:
Choose a robust desk reservation system
Finding the right reservation system is an essential part of the process. Capabilities for the booking system should include:
Visualization of the office space

. Employees know exactly where to find the space that they've reserved and they can choose their desk based on their preferences (close to the window for more natural light, or to a preferred team buddy etc.)

Ability to book on a mobile app

. This responds to the needs of a mobile, highly dynamic workforce. Employees expect the technology and tools they use at work to keep pace with their everyday lives. Having a mobile app means employees can easily reserve the space and resources they need while on the move.

Integration with Microsoft Teams

or other communication platforms. By integrating your booking software with Slack or Teams, you optimize the employee experience while also keeping things easy and efficient for maximum productivity.



Make it easy to choose a desk upon arrival
Enabling the best arrival at the workplace for your employees can heavily influence their workday. Commuting to work can be stressful, and employees just want to get settled as soon as they walk in the door.
Help them find what they need and enable the best workplace experience. With real-time visibility into which desks are available and how close they are to the tools and resources they need, employees can locate a workspace and get settled in quickly.
Help employees find what they need
In a dynamic environment where everything is constantly moving, making sure that employees find what they need can be a challenge. And that can be especially true for new employees or people unfamiliar with new locations. A workplace experience app that offers the ability to search for nearby amenities like cafes, lockers, printers, and available collaboration spaces—or even a fellow colleague's desk location—can go a long way in making employees happy and productive by providing what they need, where and when they need it.
2. Make It Easy to Clean Up
Office is like a second home. You wouldn't want your home to be messy and dirty. It's important that you encourage your employees to pack up everything they brought at the end of the working day and to leave the desks exactly the way they found them for the next person. Make it easy for them to clean up after themselves by placing trash bins nearby. Stock up your kitchen with cleaning supplies and place wet wipes around the office. This will make it easier for people to quickly wipe down their desks after an accidental spill and at the end of the day.
Our advice: Create a checklist for your team outlining what the deck should look like before they step off the workplace. That way they can just follow the checklist and make sure they're leaving the desk the way it should be for the next person who uses it.
3. Be Careful With Germs
Although COVID reached its endemic part, the virus isn't gone. Without precautions in place, a workplace can be a spreading ground for germs. Try to plan ahead for cold and flu season by encouraging employees to stay home and take rest if they are feeling sick. Also, make hand sanitizers and tissue boxes available throughout the office.
If an employee gets sick, create a way to alert their desk neighbors. A desk reservation tool will allow you to see where that individual was sitting and who else was near him.
4. Have a Silent Devices Policy
While the office shouldn't be a noiseless library, it also isn't a place for distractions such as loud music coming out of headphones or alarms going off every few minutes. Ask employees to silence or lower the volume on their personal devices before coming in for the day.
And, if they do have to take a personal call, encourage them to use a phone booth in order to avoid the open space. By offering a variety of working spaces, you can make sure your people can handle their personal and professional business with total privacy and without disturbing anyone else.
5. Encourage Socializing in Shared Spaces
One of the best parts of hybrid work is getting to socialize in person with teammates and work friends in person, again. Designing social spaces around the workplace like the kitchen area or lounge areas for social conversations encourages employees to bond.
With effective space management, you can make sure those who want to catch up over coffee can do so without disturbing a teammate focused on a project at their desk.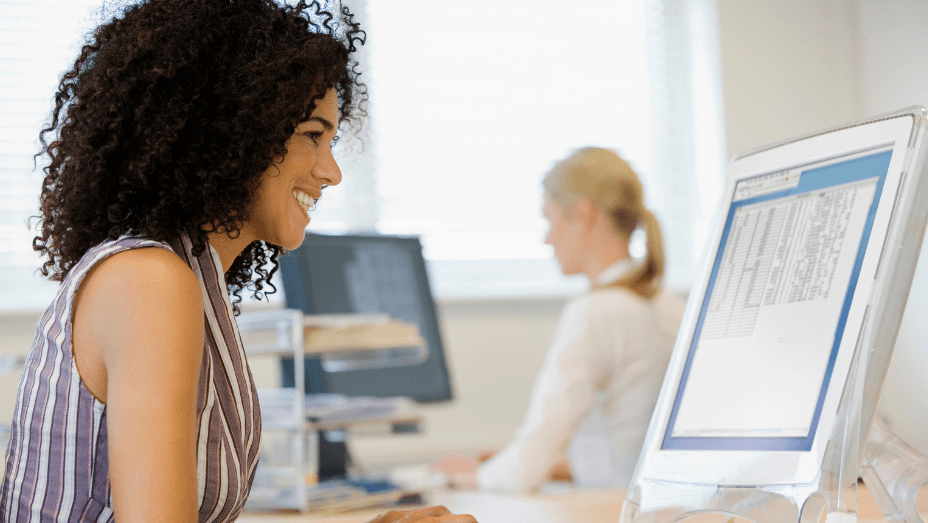 6. Lock up Extra Items
Something to take into consideration before implementing desk sharing is that employees won't have a permanent place to store their belongings. They might be coming into the office with gym bags, skateboards, suitcases, and other big items that can block a hallway or their desk space.
Offer them storage solutions! If you have lockers, you can assign them out to individuals for the day. Or if you have extra rooms around the office, you can convert them into storage rooms.
7. Build a Culture of Flexibility
If your workplace has a built-in culture of flexibility, your employees are much more likely to follow desk sharing etiquette. Nonetheless, challenges may occur. For example, maybe someone reserves their favorite desk but finds someone else already set up there. Or maybe an employee brings in their puppy and has a desk right next to someone with a dog allergy.
Encourage your employees to handle unplanned situations with flexibility, kindness, and respect. Train them on how to use the tools and platforms at their disposal to switch desks, communicate their needs, and submit support requests. Desk sharing is a community effort to make it work.
8. Talk To Your Team First
If you consider transitioning from a traditional workplace model to a flexible work arrangement, talk to your team first about what this change requires. Why? Because switching from a personal desk to one that multiple people use may not please everybody.
If team members express concerns, consider moving slowly (to one or two shared desks) instead of going all-in right away. Give your employees time to see how it works, and how they can benefit from the arrangement.
What else should you do to prepare the switch?
Get buy-in from all stakeholders early
Like any change management in a large organization, a transition to desk sharing requires getting buy-in as you collaborate on a plan with internal stakeholders, like everyone from facilities to IT or from HR to C-level. Everybody must understand how this impacts employees and be on board to support it. You should also make sure to let team leaders know that the many investments you are making in the experience and tools will make their teams' workplace experience better than it was before.
Help get employees excited!
Most importantly, communicate early and often, well in advance of the launch. Get employees excited by focusing on all of the new amenities and benefits that this change will bring to their workplace experience.
9. Plan Your Shared Desk Space
When switching from one seating option to another, take the opportunity to incorporate office space planning into the mix. Office space planning is the process of organizing furniture and function in such a way so as to maximize space and improve the efficiency and productivity of the employees who occupy it.
Essentially, it's using different methods to set up your work environment for optimized space usage.
10. Offer a Variety of Office Hoteling Furniture and Layouts
An efficient desk sharing model offers employees a variety of flexible workspaces so they can reserve the type that best suits their needs on any given day.
A great option to pair with desk sharing is activity-based working, which not only boosts productivity, but enhances employee engagement and job satisfaction too. A pleasant work environment will also help you attract and retain new talent.
Think about the following options:
Consider adjustable-height desks
There are many options to choose from, including: sit-to-stand adapters for your regular desks, manually adjusted sit-to-stand desks, powered sit-to-stand desks etc.
Whatever you choose, the flexibility will give your team the option and ability to customize the way they work — and improve their focus and productivity in the process.
Offer various seating options
As with the ability to switch from sitting to standing, offering various seating options is a great way to help your team stay comfortable and engaged in their work.
Include items such as, but not limited to: ergonomic chairs, stools, balance balls, pedestal stools etc.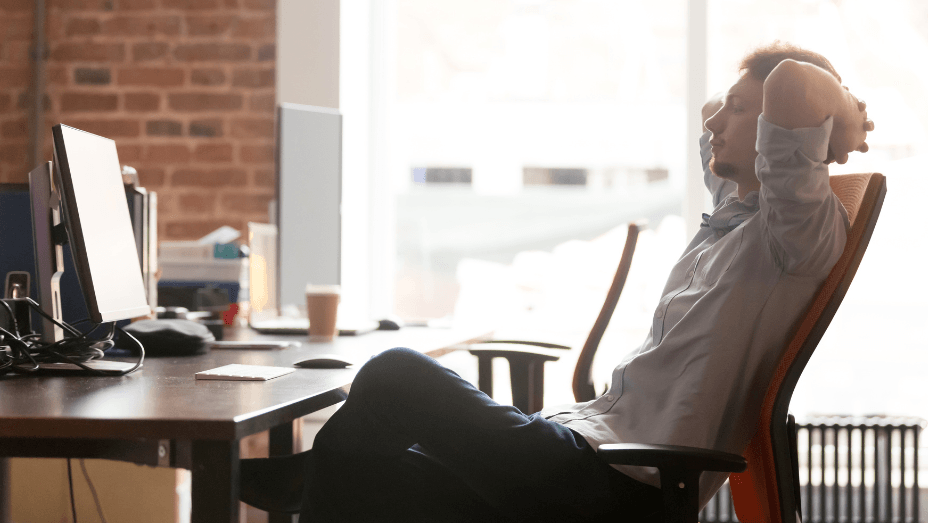 11. Get the Balance Right
Make sure you know precisely the ratio of people needing shared desks. Keep in mind that not everyone should participate in hot desking: employees who typically spend 80% or more of their time at their desk should keep a desk assignment. Customer-facing teams like sales, marketing, and management teams who tend to travel or be in the office less typically can sustain a high ratio of desk sharing, while office-based teams such as engineering, finance, and administration typically don't.
Iterate constantly and consider having more desks available when you start the project, as it's always easier to introduce more people to a given floor later.
12. Cut The Cords
With wireless technology making mobility easier than ever before, cutting the cords is a great way to make your shared desk arrangement more adaptable to your team's needs.
When desks aren't tied up by internet and phone cables, your employees can move them around to facilitate collaboration and group work of all kinds. For maximum flexibility, consider installing power boxes in the walls, floors, and hanging from the ceiling.
What else should you consider?
Eliminate the stationary telephone
In a shared desk work environment, the stationary telephone at each desk is no longer feasible, nor practical. Instead, think about replacing those stationary telephones with company cell phones so your clients and customers can reach specific team members regardless of where they're working.
13. Encourage Cleanliness And Organization
Some people might not be able to embrace a desk sharing system in a blink of an eye. From working in a traditional office for most of their adult life, they may be operating under a different organizational paradigm. As such, you may need to encourage a different type of cleanliness and organization — one more suitable to the high-traffic, flexible environment.
Here is what you could do:
Create space for storing shared documents
Creating spaces to store shared documents is part of a successful shared desk experience.
If you use hard copy paperwork, create physical space for files and remember your employees to return any shared papers to their proper location so that the next person who needs them can find them easily.
If you rather use digital documents, create a private and secure cloud space that employees can access from wherever they need it.
Assigning lockers to each employee is the solution to keep your office space clean and tidy. Distribute them throughout the office so that they are relatively close to each cluster of workstations.
One of the most common complaints about hot desking is not having a place for your things.
Don't feel like the storing spaces should be, as even a block of cubes tucked away in a corner offers plenty of space to store the items your employees need when they're out of the office.
14. Run a Pilot First
Try a pilot on one floor with a committed team and iterate, to show people that it's been tested and proven as you continue to roll it out.
Don't shock your employees by making sudden changes. Your entire team will be best served if you make a gradual, rather than an abrupt, change from traditional office to shared desk environment. Switch a few desks at a time to the new arrangement and give your team time to get familiar with the new way of working.
15. Create Rules To Cover Shared Desk Etiquette
Remember the checklist we previously mentioned? You need to have clear rules to cover the shared desk etiquette in your office.
Wiping down the desk, chair, and other "public" surfaces with an antibacterial wipe before you leave is just one example. The schedule for who works when and where is another.
As you transition from a traditional office to a shared workspace, make the rules and etiquette flexible at first until you find out what works best for your team. Create an employee handbook or checklist and don't be shy to adjust it along the way.
Incorporate a BYOD program
BYOD is an abbreviation for the phrase Bring Your Own Device and it refers to the practice of allowing employees to use their personal devices - anything from smartphones to laptops or to simple USB drives - to access business networks, work-related systems, and sensitive or confidential data.
Incorporating a BYOD program in your business makes the shared desk arrangement easier to organize and execute because they will no longer carry their own dedicated computers, as team members supply their own devices.
Communicate office hoteling guidelines and etiquette ahead of time
As with any kind of change management in the workplace, it's important to help employees feel prepared and supported in their adoption of office hoteling.
So, communicate clearly and frequently before you make the move. You want to make sure everyone knows what to expect, not only in respect of the space and its design, but also in terms of desk booking and how to use the reservation system.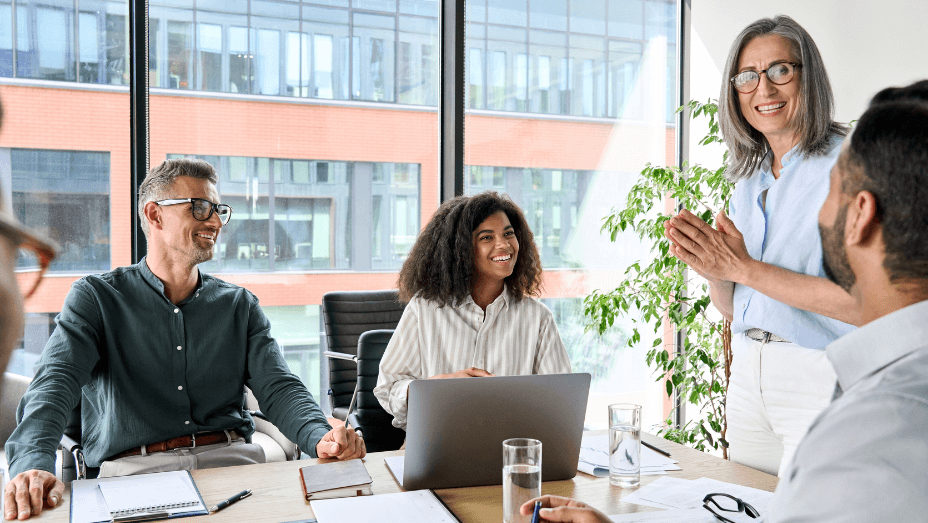 16. Appoint A Shared Desk Manager
Your team will have questions and ideas as they transition into the shared desk system.
To make the transition smoother and natural, appoint a manager to oversee the conflicts and uncertainties that may arise. He must be given the authority to make decisions based on what's best for the team.
17. Ask For Feedback
One of the best ways to find out if the new system is working is to ask for feedback from those who use it. Questions related to whether they like or dislike the arrangement or if it meets their expectation, and how they would improve it are critical in understanding if things are going the right way.
Get feedback regularly and look at the data to know how to improve
Once you've launched, it's critical to keep a pulse of what's happening and how it's working. Survey employees regularly to see how they're responding to the change, and look closely on the data to determine if space planning ratios are working.
18. Pay Attention To Lighting
Natural light at the office is always best, but it's not always possible to arrange things so that all your shared desks are close to a window. If you can't move things around to let the light in, try adding adjustable-wavelength lamps as a supplement to your current lighting so that your team members can customize the light to stimulate their productivity.
19. Harness The Power Of Plants
One of the easiest and least expensive ways to stimulate productivity in your office and reduce stress is to harness the power of plants. When plants are present, tasks are completed faster and to a higher standard. For example, computer workers boosted their productivity around plants by 10-15%.
20. Empower Employees to Personalize Their Space
Choosing where to work and being able to personalize their workplace experience enable employees to feel motivated about coming to the office and being productive. They will feel unique and taken good care of, which helps boost their creativity, efficiency and the sense of belonging.
Ultimately, the key to hot desking success is to empower employees with choice and the ability to personalize their workplace. By giving employees a wider range of work environments that support each one's style and preferences of focus and collaboration, and by providing them the tools to find the people, places, and things they need to be happy at work, your approach will prove successful.