What keeps you up at night?
We guess it's the return to office strategy. The changing way of work, pressing social distancing requirements and their implementation tactics can be overwhelming. To make it easier for you, our team is currently developing the YAROOMS Desk Booking solution which will become part of the YAROOMS Cloud suite. As the launch is coming soon, we invite you to take a glance at what's in it.
Why desk booking?
Counting on 10 years of experience in workplace technology, we know that any organizational challenge must be tackled by using robust tools, staying in control, and ensuring integrity.
First, it's the "gear". Companies whose desk management approach before the pandemics relied on fixed seating might lack experience or infrastructure to adopt social distancing requirements. Meanwhile, the ones familiar with hot desking need to look for advanced solutions, which allow not only desk reservation, but also enforce important safety-related restrictions. As a tool, desk booking is capable of both, and can be implemented in distinct setups, depending on the needs.
Then, you have to stay in-the-know and maintain control on critical assets, in this case, desks and workstations. It's always easier to manage what you can actually see, so an office layout plan, displaying the status of shared spaces can be a real time saver when planning or choosing a safe space to work.
Lastly, it's making sure that your strategies work hand-in-hand and complement each other. For example, the knotty work to plan staggering shifts can be taken away from HR managers by allowing your employees to see the desk offering and book workspaces by themselves. By doing so, the on-site workforce planning becomes an organic, self-scheduling process.
The YAROOMS Desk Booking solution
As every organization is unique, YAROOMS Desk Booking comes with a handy set of features to cater a multitude of needs in the transitional, physically distanced office:
Multi-level capacity enforcement
Interactive floor plan
Desk booking
Compliance questionnaire
Contact tracing
Here's an example of how your interactive floor plan could look like: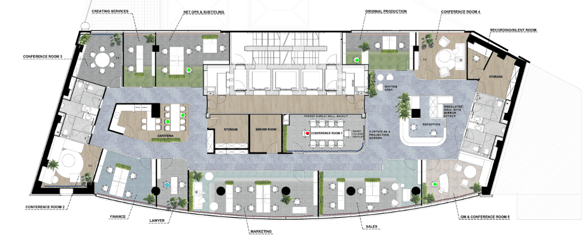 Interested in learning more about desk management? Do you think it might help your organization on the way back to work? Chat with us right away!