"Smart office space" seems on everyone's lips these days. And although there are many reasons to believe it's just another buzzword, there are just as many to make you consider embracing a smart office.
So, what is a smart office space? Why would you invest time, money, and effort into it? And how do you do it?
We're deep-diving into smart office space features here, so buckle up and keep reading!
Smart Office Spaces: What Are They?
A smart office space is one where technology seamlessly integrates into the office environment. It speeds up workflows, makes communication more efficient, and generally makes the working day easier for employees and management/ leadership.
What Makes an Office Space Smart?
Here's where things get...interesting.
"Smart" is a very loose label these days. You know what a smart TV is, or a smartphone. But when it comes to larger, more complex things like offices, there are various elements and features to consider.
As a general rule, office space is smart if it's equipped with technology that enables, augments, and supports your work, ideating, and product delivery. Whether you work in a SaaS, manufacturing, or virtually any other business, a smart office should make your work simpler and more efficient.
You don't have to hit all the "smart office" points on any list -- but if you strive to implement some of the more important ones, you should be well on your way. Some smart office elements you could embrace with relative ease include:
Automated Lighting
Smart lighting is one of those features that can make a noticeable difference in how productive and comfortable your employees are during the day. Automated lighting solutions can detect motion within the office and respond accordingly, dimming or brightening up to create just the right atmosphere.
Employee & Visitor Check-In
This is a pretty easy one, but it can save you time and money and keep you compliant. Employee and visitor check-in systems allow you to keep track of who's in the office, how long they've been there, as well as collect basic information (like their name and scope of visit). Plus, they can often be integrated with other systems like time tracking.
Smartphone-Controlled Temperature
Modern HVAC systems are becoming increasingly sophisticated and can be managed easily with an accompanying mobile app. Employees can adjust the temperature in their immediate vicinity to create a comfortable working environment, while management can monitor and adjust the system from afar.
Voice Assistants
Whether it's Amazon Echo or Google Home, voice assistants have become commonplace in both homes and offices. With voice-activated working tools, you'll be able to perform simple tasks without learning complicated software. Plus, it can help keep your office more organized and efficient.
Flexible Seating & Desk Configurations
Gone are the days when everyone had to sit at their desk. Flexible seating and desk configurations can make the office more comfortable, while also enabling remote working. Plus, it will free up valuable space for other creative projects or events.
Interactive Whiteboards & Touchscreens
If you're looking for a way to make ideation and collaboration more efficient, interactive whiteboards and touchscreens can be a great addition to your office. They're easy to use and enable multiple people to work on projects together, in real time.
Smartphone-Adjustable Desks
Comfort and health should always be a priority, especially if you want to keep your employees happy and productive. Smartphone-adjustable desks allow people to adjust their desk to the perfect height from anywhere in the office, so they can maintain better posture and stay efficient.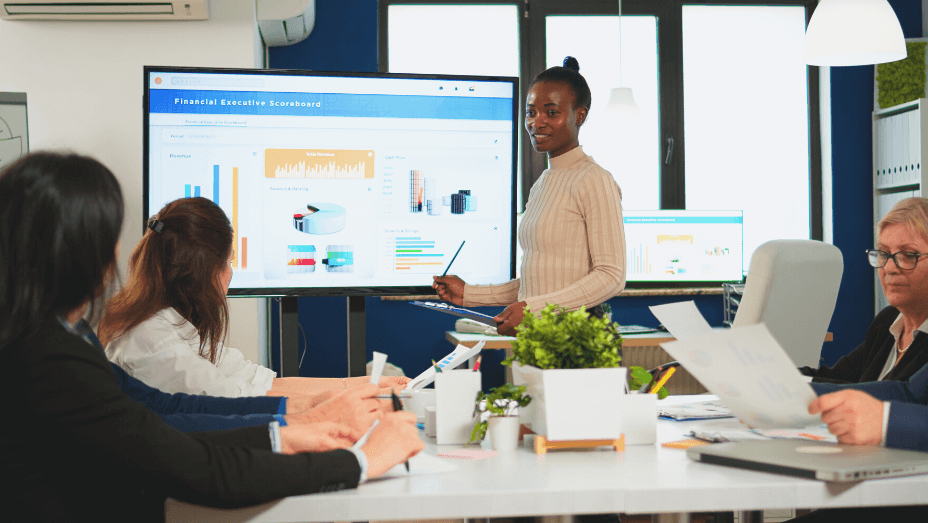 The Benefits of Smart Office Spaces
Smart offices are popular now for a very good reason -- they can make all the difference to your business. Here are just some of the benefits:
Increased Productivity
Smart office technologies can help employees do their jobs more efficiently, with faster communication, improved collaboration, and better time management. For example, embedding a cloud-based communication and collaboration platform into your office environment can make it easy for employees to communicate and collaborate.
Enhanced Security
Smart offices tend to be more secure, especially from a cybersecurity perspective. The reason behind this is that smart office technologies often come with built-in security measures, such as secure access forms, encrypted data transfer, and two-factor authentication.
Higher Employee Satisfaction
Smart offices can have a positive effect on employee morale. By providing the tools and technology necessary for employees to work more efficiently, you show them you care about their time and energy. As a result, they will be happier and more productive at work -- and you'll be able to improve your employee retention too.
Improved Data Collection
This is not about being a "Big Brother." With smart office technologies, you can collect data about employee performance, office use, customer behavior, and other metrics without intruding on people's privacy. This allows you to make better decisions and optimize your processes.
More Cost-Effective Operations
A smart office is an investment. But, when you look at the long-term benefits of improved productivity, enhanced security, higher employee satisfaction, and improved data collection -- it's worth it.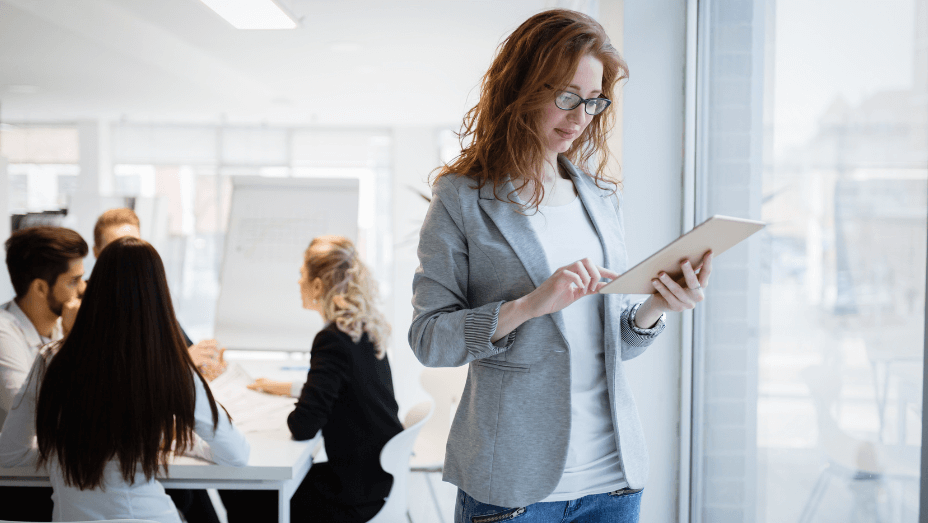 How to Make Your Office a Smart Office: 10 Must-Have Features
Let's say you're sold on a smart office; now what? What are some of the features that will make your office space "smarter"?
Access Control
Access control refers to the systems in place to control access to certain areas of the office and/or certain data. You can put in place user authentication, access logs, and other measures to ensure the security of your office.
Sensors & Other Hardware
Sensors can gather data on office use, such as temperature and light levels. You can also equip your office with other pieces of hardware, such as interactive displays that can enhance collaboration and communication.
Interactive Floor Maps
Interactive floor maps can help employees and visitors navigate the office space more easily. They can also provide information about available workspaces, services, events, and more. This type of tech can help you with workplace visibility, as it will be easy to see who is in the office at any given time.
Desk and Room Booking Solutions
Desk and room booking solutions make it easier to manage office bookings, such as meeting rooms and hot desks. Furthermore, tools like Yarooms can do a lot more, like desk booking, collecting office space analytics, and more. This can help boost productivity in the office, avoid friction, and keep your team with their eyes on the price.
Work Planning Solutions
Work planning solutions make it easier for you to plan, assign tasks, and monitor progress. This will give your team a better overview of what needs to be done and when helping them stay on top of their work.
For instance, our hybrid work planning feature enables employees and leadership to manage office space in hybrid workplaces and juggle the alternation between in-office and remote work. Having an overview of where everyone is working on any given day can help you improve processes, save money, support productivity, and make better business decisions going forward.
Tools for On-the Go Scheduling
There are 6.8 billion smartphone owners in the world, which makes it extremely likely that your employees are among them. The right tools can allow you to manage work schedules, set tasks and track progress from anywhere. This is especially useful for remote and hybrid teams, but it isn't beneficial exclusively for them.
For instance, the Yarooms mobile app allows you to schedule booking rooms and work desks on the go, wherever you are. This way, everyone can update their work status and work location, even when they're not in front of a computer.
Visitor Management Solutions
If your office is client-facing or you have frequent visitors, it's important to have a reliable system for managing visitor check-ins. Visitor management solutions like Yarooms Lobby Display & Digital Reception enable you to offer a seamless check-in process to anyone walking into your office -- whether it's clients, remote workers who only come in every quarter, or candidates for new job openings. What's more, our system also allows you to check visitors in securely, so your company can stay compliant across different data privacy regulations and legislations.
Workplace Analytics
Workplace Analytics can be a goldmine of information for the entire company. Your HR department will be able to collect data on how employees use office space and pinpoint ways to improve productivity, while your finance team can evaluate the cost-effectiveness of your office space.
For instance, Yarooms Workplace Analytics features can help you build a better, more productive, and more financially-savvy work environment -- for you and your employees.
Integrations
It's not enough to have a tool and collect data. Your toolstack should function like a perfectly oiled machine -- so integrations are absolutely crucial to maximize their effectiveness and value. Tools like Yarooms are designed to integrate with your work tools, like Microsoft Teams, for example. This kind of feature fosters better collaboration and efficiency at work, allowing your teams to know where they are, plan their meetings better, and focus on giving their very best on every task and project.
Sustainable Workplace Technology
Like it or not, environmental issues shouldn't be ignored anymore -- and it's our duty, individuals and businesses to address them. Sustainable workplace technology can help you do that while also reducing your office's costs, building an environmentally-friendly brand you can be proud of, and attracting talent that's on par with you when it comes to these matters.
At Yarooms, we have recently launched a Carbon Dashboard that allows you to track how much CO2 has been produced due to office activities, such as commuting and powering up your office. This way, you can make informed decisions about how to move forward in a way that's eco-friendly and employee-oriented.
"Smart office" is no longer a buzzword, but a legit, viable, and necessary strategy for businesses of all sizes. By investing in the right technology, you can improve processes, reduce costs and increase productivity -- while also making sure your employees are the best they can be.
From scheduling to visitor management, workplace analytics, and integrations, there are many different tools you can incorporate into your office workflow. However, always remember to use your technology with purpose, with an eye towards sustainability and the well-being of your employees. There's no point in being "smart" if you can't use it for better purposes -- whether it's the well-being of your team or that of the environment.