It took us years and a pandemic to acknowledge that work is what we do and not a place where we go. We've learned that more flexibility enables more creativity, and that less commute time and distractions in the workplace makes us more productive. Today's workforce is virtually mobile, agile, and collaborative and employees use the work space differently. Organizations need to adapt their office space to the new ways of working, while creating workplace strategies that encompass their employees' preferences.
TL;DR:
A good workplace strategy is essential for organizations to adapt to new ways of working and employee preferences.
Workplace strategy is about everything your people experience every day, enabling delightful workplace experiences that raise teams' levels of engagement and satisfaction while providing business growth.
Benefits of a workplace strategy include keeping employees happy and engaged, saving costs, and downsizing while still allowing for growth.
To develop a workplace strategy, Deloitte recommends analyzing current demand for space, developing multiple scenarios for future workplace, finding the best integrated solution set to support the workforce, setting a change management strategy, and implementing a governance structure.
An effective workplace strategy can transform the way in which the workplace operates, providing frictionless workplace experiences, reducing costs, and increasing overall employee satisfaction.
What Is a Workplace Strategy?
While 65% of employees want flexibility in the workplace, others - more than 40% - believe that "office work" is still best when it comes to being noticed and advancing your career. Employers are in the difficult position to make the most of both worlds, especially in a time when the trend is changing yet again. Establishing a hybrid, "mixed" work environment takes a lot of goodwill and most importantly, strategy.
A good workplace strategy can be defined as an integrated system of space and technology that enables work, wherever it occurs, doubled by effective and consistent HR policies to increase operational efficiency. Your strategy must integrate planning and a change management approach to leverage space and technology in order to lower your costs and positively impact the overall employee performance and satisfaction.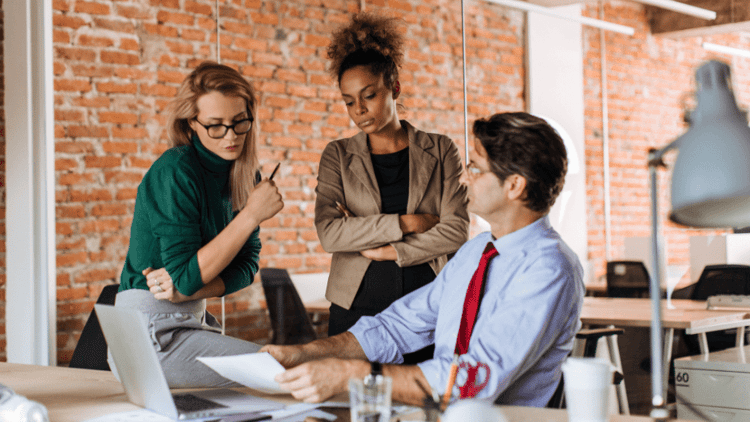 Why Do You Need a Workplace Strategy?
You Want to Keep Your Employees Happy and Engaged
You should make joy at work a priority for the welfare of your company. Flexibility is the keyword and you can make your workplace a desirable place and a great experience by creating the choice for employees to be productive from a variety of work settings, including corporate sites, customer locations, at home, etc.
You Don't Want to Send Costs Through the Roof!
Optimizing your work space will help you save costs, but at the same time you will have to be able to maintain an office presence and accommodate new employee preferences. How? You will have to get the headcount of those who want to have a hybrid schedule and those who want to stay fully remote in order to maintain the balance and simultaneously cut costs - 20-50 percent improvement in asset performance.
You Can Downsize While Still Allowing for Growth
Realign your workspace to better support the kinds of interactions that your people desire.
Many teams (that balance hybrid and remote workers) are enacting monthly or quarterly meetings so that every employee gets the opportunity to meet and collaborate face-to-face
You can, thus, increase the amount of collaborative space while still keeping some individual workspaces, but not without evaluating the risks:
You will have to look at

utilization data

- i.e., who is using what space. This reveals not only how productive your workforce is but further allows you to measure employee engagement, and if your workplace strategy is successful.
Ask your HR to go to the company's various team leaders and collect data regarding their needs for future headcount. Once HR gets a rough number, they can partner with the CFO, who can potentially forecast future budgets and allowances for talent acquisition. That way you can still downsize the space while factoring in potential growth as it pertains to future headcount.
You Will Unlock the Potential of Your Teams' Efficiency
A good workplace strategy will provide you with the resources and tools to evaluate the optimal way to align your workplace to your work. Mixing a thorough planning of resources with a change management policy and workspace management tools and technology will provide you with the necessary levers to grow your teams' productivity and engagement and to constantly measure the impact of your strategy.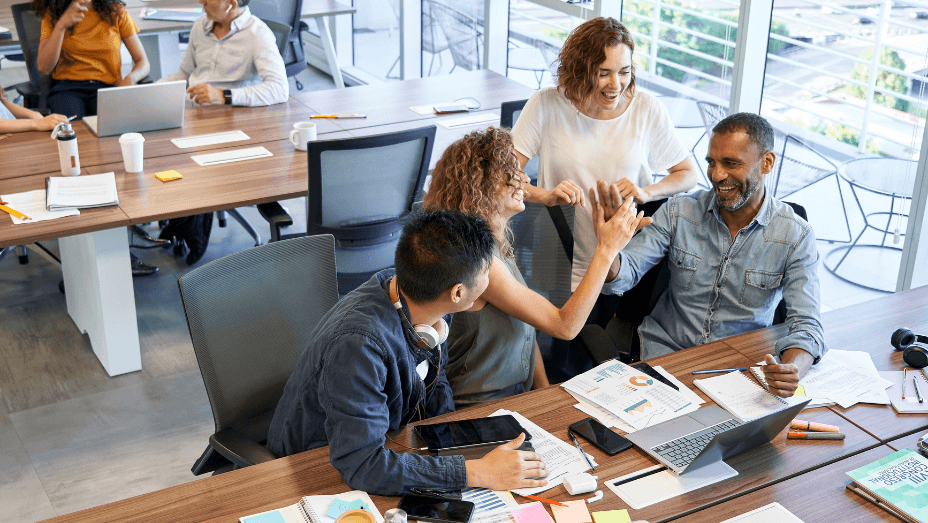 Workplace Strategist Role and Responsibilities
A thriving workplace strategy starts with an able strategist who grasps the intricate interplay between people, space, and processes. Think of workplace strategists as architects designing blueprints for organizational prosperity. Their responsibilities are manifold yet revolve around one pivotal goal - forging workforce strategies that best harness available resources while enhancing workflow efficiency.
What Does a Workplace Strategist Do?
A workplace strategist is responsible for developing and implementing workplace strategies that align with an organization's goals and objectives. This can involve analyzing data and trends, engaging with employees and stakeholders, designing and implementing workplace solutions, and measuring the success of workplace initiatives. The role of a workplace strategist can vary depending on the organization and industry, but generally involves working closely with leadership and other stakeholders to create a workplace environment that supports the organization's goals and objectives.
How Do You Develop a Workplace Strategy?
An Overall Approach to Workplace Strategy
Where do you start from when creating an efficient workplace strategy? Here are the steps recommended by Deloitte:
Analyze your current demand for space: review internal utilization data from real estate, HR and IT. With

data analytics tools

you can identify trends, gaps and opportunities, and develop a financial model for your workplace strategy.
Develop multiple scenarios for your future workplace: define different work styles to form the basis of allocation practices, redesign space and technology allocation, and project cost savings estimates.
Find the best

integrated solution set

to support workforce across in real estate, HR and IT and the roadmap to implement your strategy, as well as a governance structure.
Set a change management strategy, supporting communications, training, and integration across the program team and make sure everybody is on the same page.
Workplace Strategy in Action
An effective workplace strategy transforms work and the way in which the workplace operates. It helps design and create frictionless workplace experiences that enable everyone to be the best they can be wherever and whenever they work.
One of Deloitte's clients improved its workspace utilization from 1.22 seats per person to 0.86 seats per person for the targeted population of employees and forecasted an annual run-rate cost reduction of $400 million. Additional long-term benefits such as anticipated reduction in carbon footprint and an increase in overall employee satisfaction are also expected to be achieved.
It's a good example of a workplace strategy done right. This can only work when the strategy is designed to make your business more effective and agile and when it is linked to your business goals, vision, culture and context.
Workplace Strategy is About Everything Your People Experience Every Day
Enabling delightful workplace experiences will raise your teams' level of engagement and satisfaction, while providing business growth. An efficient workplace strategy is like a 'blueprint' that sets out how to get the most from your people, technology and places, and work out the best practices, and cultures needed to provide a platform for business success.
It's also about defining and proposing new working practices and understandings to help your people perform at their best.
Using 'Workplace Change' as a Catalyst for a Range of Initiatives
In every workplace transition project, it is vital to explain what is going to change, why the change is being made, how things will work / how the change will be implemented, and when things will be changing. Change doesn't come easy, but it is a catalyst for a range of initiatives.
Like, for example, agile collaboration... What we've all experienced in the past couple of years is the rise of agile collaboration under a framework that allows better alignment around the same objectives, transparency in decision-making, and a more results-oriented approach. This is one of the initiatives that have gained ground and are definitely here to stay.
Increasingly, the workplace experience is being seen by innovative leaders as a tool in the battle to recruit the best talent and support professionals in delivering their best performances. The workplace experience has immense value and putting the workplace 'consumer' at the heart of the design and management process is key.
Employers are more and more interested in thorough research of the in-house working patterns to build on more focused wellness and engagement programs for their employees.
Being able to adapt to all that and find opportunities inside disruption is what it takes to ensure your organization remains competitive, your people productive, and your workplace cost efficient.
The Anatomy of an Optimal Workplace Experience
How can your workplace experience function at its best? Follow these recommendations:
Set A Clear Vision
Be clear about your vision of change and how it will impact your business. In order to make it beneficial, this may involve enabling new ways of working or shifting the way work gets done inside your organization.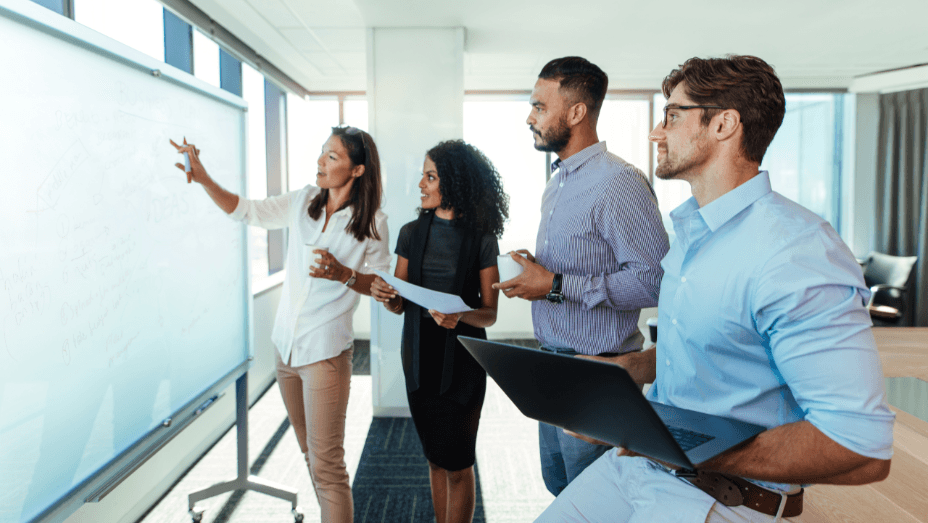 Enable Your People
Understand your employees' needs for creating a workplace that is a destination for them. You can think of it as the IKEA of all workplaces, a space where people enjoy coming to because they feel their desires are addressed. Go beyond generations, and work to understand both working styles and lifestyles of your employees so that you can appropriately tailor your work experience proposal to their needs.
Meet Basic Needs
Seek to address all the basic elements that each of us need to be productive at work, such as: access to a variety of spaces enabling different working patterns, flawless technology, support of flexibility and wellbeing, easy access to information etc.
Create A Destination
It's true that nowadays work can be done from anywhere and employees highly value flexibility and the choice to work from whenever they feel more productive. However, it is also known that collaborative working enhances cohesion and the feeling of striving for the same "why". So, by making the office a delightful, go-to place of choice, you can ensure people's heartful presence at work.
Focus On Details
The magic is always in the details! Caring for your employees and enabling them flexible workplaces and advanced workplace strategies to keep them engaged will help you attract and retain top talent, amplify loyalty and the joy of belonging to a company that values their work.
Change Management Initiatives
Change management initiatives are crucial for highly effective workplace strategies because they ensure a smooth transition from old practices to new ones.
Workplace strategies often involve introducing novel processes, technologies, or workflows to enhance efficiency and productivity. Without effective change management, employees may resist these changes, leading to disruptions, lowered morale, and reduced effectiveness.
Change management initiatives help prepare and guide employees through these transitions, address their concerns, and ensure they embrace the new strategies. This ultimately leads to a more adaptable and responsive workforce capable of successfully implementing and sustaining workplace strategies, resulting in a highly effective and efficient workplace.
Wrapping Up
To conclude, as you can expect there isn't a one-size-fits-all approach to hybrid workplace strategies. Your strategy will have to accommodate your employees' working preferences, enable good work, while increasing operational efficiency and will be subject to constant refinement. This might not come as an easy task, but luckily, with changing work trends come innovative platforms and services that can help you make the best use of your hybrid work environment.