More than 261,000 new jobs were added to the US economy in October 2022 alone.
It makes sense. A company is only as good as its employees, so making sure you recruit new talent is at the very foundation of growth. Yet, if you too find yourself in the situation of needing new employees, but you're running out of physical space in the office, you might be in a bit of a pickle: how do you meet new space demands without spending an actual fortune on renting (or buying!) real estate -- and without interrupting the usual business with a costly, painful, and stressful office move?
Luckily, there are a few ways you can make the most of the space you have, and hybrid work shines through as one of the most viable, cost-efficient, and employee-friendly options you have at hand.
How, more exactly, does hybrid work help you accommodate your growing team in the office space you already have?
We're diving into this exact topic in this article, so keep reading to learn more.
Hybrid Solutions to Growing Pains
Proper business growth cannot happen without human resources. And yet, financially, adding new employees to your payroll isn't about the monthly paycheck only -- it's also about the time required to train new people, ensuring their equipment and tools, and the workspace you need for them. The latter can be a significant challenge if you're running out of room in your office space.
In a more traditional context, what most HRs and Facility Managers would do is look for a bigger space. Alas, though, we're way beyond traditional contexts at this point, as the pandemic has forced everyone to change the way they look at office space -- and, by extension, how they grow their businesses.
To top it off, with a recession underway (predicted according to multiple sources), most businesses will want to continue their growth (albeit at a slower pace and in a more financially-limited way) but may not want to -- or be able to -- move into a new, larger space.
Under these circumstances, "growing pains" become almost physical. You can't cram 100 people in the space assigned for 70 people -- and much less so if you still want to make sure the hygiene measures you implemented a couple of years ago are still standing.
Hybrid work is the solution that might just solve, if not all, then at least a large majority of your issues.

What Is Hybrid Work?
In a hybrid work set-up, employees have the possibility to choose (within certain limits) whether they want to work from home or come into the office. The key is that they don't have to -- and shouldn't feel like they have to -- do one or the other all the time.
Hybrid work can be a win-win situation from multiple points of view:
It can improve employees' morale and motivation, as they feel trusted to work from home when they need or want to;
It can help with employee attraction and retention as statistics show that 44% of

recruiters

prioritize remote work benefits and 73% of employees say

flexible work

has improved their overall wellness.
Last, but not least, it can save you space -- and thus, enable you to grow your business at a high pace, and keep up with the market, all without having to spend extra thousands of dollars every month.
Just how much money can hybrid work save you?
Well, let's put it like this: if your company has 100 employees and plan to add another 15 to your payroll, and your monthly cost per square meter is $200 (with a yearly cost for your current configuration estimated at $1.680.000), that means you'll need an extra $252,000 simply to accommodate the new workforce.
That's more than a quarter million dollars you can use on literally anything else for your business: training, marketing, product development, research -- you name it.
And that's without even taking into account the potential drop in productivity associated with relocating your business.
How to Use Hybrid Work in a Small(er) Office Space
Essentially, hybrid work enables teams to rotate the same office space, so they can get the best of both worlds: working remotely (and thus, enjoying the flexibility that comes with that) and meeting/ collaborating face to face.
Here are some tips to help you adjust and optimize your small(er) office space to hybrid work:
Use All the Extra Space
Assuming you're not using all the space you have at your disposal right now, it's time to change that. If there are rooms or corners that have been left unused for months now, it's time to put them to good use.
Reclaiming this extra space will come in handy when you need to set up break-out rooms or private meeting spaces for your employees.
Consider Space-Efficient Furniture
While ergonomic office furniture is important for your employees' productivity and well-being, you should also consider space-efficient (and productivity-enhancing!) furniture such as standing desks, which can help you make the most of the space you have.
Another option would be to replace some of the larger pieces of furniture with smaller ones that still offer the same level of comfort and functionality.
Add Casual/ Relaxation Spaces
One in five employees agrees that relaxation spaces at work help them be more productive.
If you want to create a hybrid work set-up that will accommodate your growing team, consider adding casual/ relaxation spaces in the office. These can be anything from a comfy lounge area to a game room or a quiet space where employees can take a break and recharge.
Make Sure the Space Fosters Productivity
Regardless of whether your employees are working from (remotely or on-site), it's important to make sure the space you provide them with is conducive to productivity and creativity.
Some things you can do to achieve that are:
Ensuring there's plenty of natural light
Adding greenery
Making sure the temperature is comfortable
These are all simple, inexpensive things in essence -- but they can make a world of difference in terms of employee productivity.
Opt for an Open Concept Space
An open-concept space can help you make the most of a small office and encourage collaboration between employees. It also allows for more natural light and makes the space seem bigger.
If you're planning to go for an open-concept office, create defined work areas and quiet areas too, so everyone can have a place to focus and get their work done.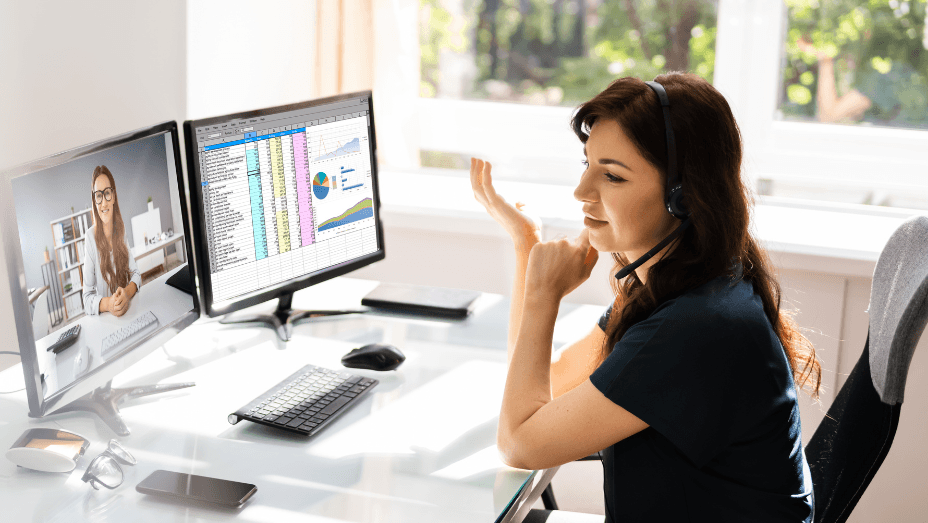 How to Make Hybrid Work...Work
The entire concept of hybrid work isn't new -- it's been around for a while now. What is new, however, is the way we're approaching it and the technologies we're using to make it happen in a more efficient way than ever.
In fact, technology has grown to be such an essential piece of the hybrid work puzzle that it can make or break the entire effort. So, if you want to embrace hybrid (to save office space and reap all the other benefits), you will first have to make sure you're using the right tool.
In essence, good hybrid work software should:
Allow you to create a hybrid work calendar plan
Provide you with a desk and room booking solution
Enable you to create automated reports on usage data so you can optimize your office for collaboration and further adjustments
The good news?
You can find all of this at Yarooms:
Hybrid work planning module allows you to plan your team's work week from one centralized platform, so you can always know who's in the office and who isn't (and so they know who's remote and who's on-site as well.)
What's best about it is that employees can simply update their calendars on where they plan to work from and the system will automatically pick up on their options to display a hybrid work software everyone can access, at any time.
Desk and room booking software allows you and your team to book desks and rooms around the office, so you can always be sure you have a space to work from -- whether that's in the office, or remotely.
Desk hoteling (the practice of employees booking different desks instead of having their own) is essential to saving space and making the most out of your hybrid work model.
Data makes the world go round -- and office space data can help you make better decisions when it comes to your workplace.
That's why our workplace analytics features enable you to generate automated reports on employee usage, so you can see exactly how your office is being used and by whom) at any given time.
Taking the hybrid route can change how your employees perceive you and how you spend your company money. At Yarooms, we've witnessed clients embracing hybrid, making it really work for their specific solution, and saving hundreds of thousands of dollars by adopting our hybrid work software.
For example, Dedalus grew its team from 200 employees to 300 at the end of 2021. As they were using a more traditional "assigned seating model") the company was rapidly running out of space in their office.
Which is why they turned to us. In a matter of weeks, they were able to repurpose 110 shared desks and 15 rooms hybrid employees can book when needed. This way, Dedalus managed to take advantage of its current office space and continue its recruitment and employment efforts.
ASEE Group is another example. As they were "going back to work" after the pandemic (and after having downsized their office space), they needed a solution to help them put an end to the "assigned office seat" era. Yarooms helped them not only fit more people into a smaller space than before the pandemic, but also save more than €200k/ year on rent and office space.
They are not the only examples. All over the world, businesses are adopting hybrid work models to be more competitive in the hiring market and save money in the long run. According to recent studies, more than 70% of organizations were planning to reduce office space in June 2023 -- and in the current context, this trend is likely to continue.
Want to see what efficient hybrid work is really all about? Let's have a chat -- we have all the information you need to make the jump to hybrid (and never look back.)