Features that will save you time
Rich in features designed to increase the speed of your work and maintain the integrity of the room schedule. We enable everyone in your organisation to be autonomous when it comes to booking shared spaces.
One Shared Space Calendar

All room bookings are in a single place. Users only see what they have access to.

Conflict Resolution

For successfully booking recurring meetings over long periods of time.

Single Sign-On

Your colleagues will join the room booking system as easy as they access email.

Granular User Permissions

Each user group has access to their set of rooms and approval workflows can be triggered based on the room.

Request Services or Equipment

Easily request catering or technical services and equipment when you book your meeting.

Powerful Reporting

Gain insights into how the shared spaces are used to optimize or resize them based on future usage.
Schedule Integrity
YAROOMS ensures the integrity of the room schedules and make the booking process friendly. Our meeting room booking system achieves this in 3 simple steps:
Zero

Conflicting Bookings

It starts by not allowing conflicts in the first place. In YAROOMS there is no such thing as a double booking.

Conflict

Resolution

When booking recurrent series that are likely to find scheduling conflicts, our conflict resolution tool will help.

Attendee

Collision Detection

We help maintain the integrity of the attendee schedule as well, by warning when double booking someone's time.
Usage Reports
All room booking data, including more than 30 data points on each meeting, is available in queryable format in our comprehensive Reports section.
Meetings
19
Held over 4 days
Attendees
93
Average per meeting: 5
Hours spent
39.5
Average meeting: 2:06h
Saved Reports
Save the room booking reports you run most often so they are readily available next time you need them
CSV Export
Take your raw data to Excel or Google Spreadsheets to deep dive into it and use other powerful tools to gain more insights
Approval Workflow
The powerful YAROOMS conference room booking engine saves your time by enforcing user defined business rules. Users can book the room directly, or with approval depending on their rights for that room. Room owners get notified and moderate these bookings.
Booking requested

A user that requires approval tentatively books the room and associated resources or services.

Notifications are sent to the room owner

YAROOMS notifies the room owners of the new booking that requires their attention.

Room owner approves the booking

The room is now confirmed, time slot occupied and a notification is sent to the booker.
YAROOMS Door
Check room availability or book on the spot with our Digital Room Signage app. Works on your tablet of choice.
YAROOMS Mobile
See upcoming meetings at a single glance
Find and book a suitable space on the spot or for later
Check-in to a meeting from your phone
Approve or decline booking requests on the go
Microsoft Teams Add-in
A desk can be reserved from within Teams. The YAROOMS add-in for Microsoft Teams is available to install in your domain from the Microsoft AppSource.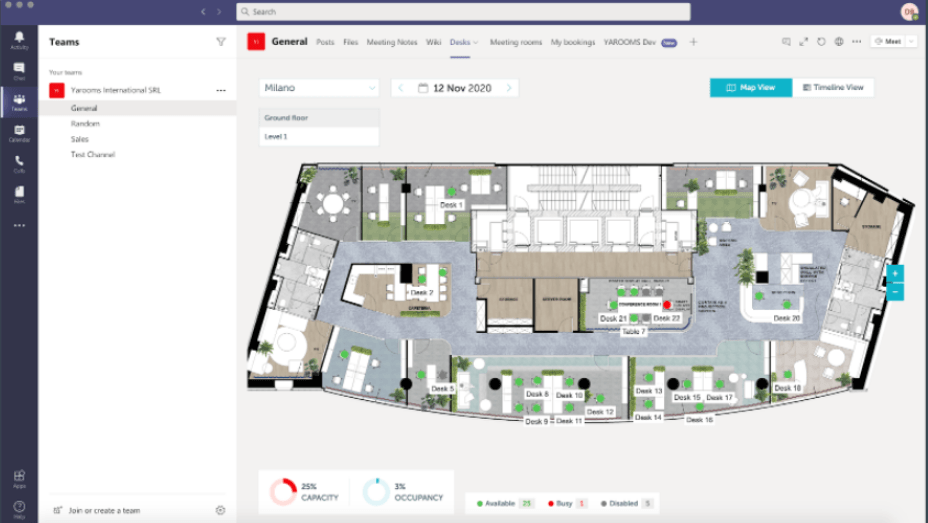 Microsoft Outlook Add-in
Meeting room booking is available in the Outlook user interface via the Outlook Add-in. An interactive replica of the YAROOMS daily schedule makes it easy and familiar.