Then and now: desk and meeting room booking in modern workplaces
A couple of years ago, desk booking solutions and meeting room managers were useful, yet not essential assets in the workplace management toolbox. But the coronavirus pandemic and the global lockdown experience has made us reconsider everything we know about workspaces. In today's hybrid work environment, desk and meeting room booking software is more important than ever. There are several reasons why.
Implementing social distancing
COVID-conscious employees will return to the office only when they feel it's safe to do so. Implementing social distancing norms is one of the first steps in building this kind of confidence.
Different research conducted during the past year proved that organizations that want to keep up with the "six feet apart" rules may need to cut down their office occupancy by up to 40% percent. Therefore, no one can bring their full team back to desks and meeting rooms at once. Moreover, people flow in the reduced capacity offices must be attentively regulated to ensure adherence to the new standards.
Booking software helps organizations implement social distancing no matter what their occupancy limits are. It allows to define optimal capacities of all shared office facilities - from relaxation areas to conference rooms - and disable specific spaces for bookings. By setting up a minimum distance between workstations in use, desk and room booking solutions ensure that everyone works in safe proximity.
Managing downsized offices
The same desk and room booking software functionalities that help implement social distancing are very useful for organizations that decided to downsize and reduce their real estate costs. The office space reservation process increases the ratio of employees to spaces, allowing you to accommodate more people with fewer workstations.
Simplifying office cleaning
Frequent cleaning is essential to maintain a virus-free work environment. To make employees feel safe and assured, workplaces are looking for ways to establish an effective office cleaning strategy and encourage best hygiene practices. Close attention is paid to high-contact objects like desk surfaces, as well as shared assets - laptops, keyboards, headsets, remotes. Normally, these devices are touched by numerous people and should be sanitized between uses.
Easier said than done? Probably. But that's where office space management solutions step in. Most of them include asset-related features that help you track which office spaces and amenities were in use. For example, if a conference room that has 5 headsets and 2 remotes is reserved 3 times throughout the day, the Facility Manager can ask the services team to clean it after each booking.
Enhancing workplace flexibility
To maintain a desired employer status in the post-pandemic world, organizations must become more flexible than ever. Workplace flexibility is at the heart of the employee experience, so you must boost it by opening activity-based office spaces and providing your staff with autonomy to choose them.
Booking software can help you set up a truly agile. You can set up an autonomous work planning process, implement flexible seating strategies, and even assign configurable properties to each space so that employees can use them to search for the perfect desk or meeting room.
Desk and meeting room booking technology
Induced by the reasons we have just discussed, the demand for desk and meeting room booking technology is rapidly growing. So is the supply of different solutions. It is possible that having to choose one was not on your to-do list until last year. Yet here you are, researching tools for safe and flexible office space management. What is the best pick for your workplace? We believe that an efficient booking solution should cover 3 essential requirements. It must be:
Easy to use
The rule is simple: booking software will be successfully adopted only if it simplifies the current processes instead of making them more complicated. No matter how complex your desk or meeting room booking rules are, the end-user experience should be effortless. Therefore, you should look for solutions with simple interfaces that can be used intuitively, without any (or minimal) prior training.
Interoperable
Not only is it the age of hybrid work - but it is also the age of digital transformation. It means that organizations are increasingly relying on tech to manage daily operations. From virtual calendars to accounting systems - the cobweb of workplace IT infrastructure is prone to grow bigger and bigger. Given its intricacy, the new office space booking system should seamlessly blend into the existing setup and be compatible with other business tools. Even better if it's able to operate as part of them.
Easy to implement
The system's interoperability can significantly reduce its implementation time, which is another factor to consider when choosing a desk or meeting room booking software. Long and tedious implementations cause process delays, frustration, employee dissatisfaction and can drastically eat into your ROI. Time is money, after all. Your transition to hybrid work will be much smoother if you arm yourself with tools that can be rapidly put into action.
YAROOMS and Microsoft Teams integration
We are happy to say that YAROOMS can offer a desk and meeting room booking solution that ticks all three checkboxes: it is easy to use, easy to implement, and it also seamlessly integrates with the go-to workplace collaboration hub at the moment: Microsoft Teams.
How does it work? You can make YAROOMS available to your entire user base by installing it as a Teams channel tab or a personal ribbon app. Everyone in your organization can start booking desks, meeting rooms, or check-in to reserved spaces immediately. No additional training is required, as users can navigate YAROOMS in the familiar Microsoft Teams interface.
Here's an example: by implementing YAROOMS via Microsoft Teams, one of our customers safely brought 2000 employees back to the office in 13 locations across the country. All of this was made possible within 7 days from the first contact.
How to book desks or meeting rooms with YAROOMS in Microsoft Teams
Let's take a glipmse at all of this in action and book a desk using YAROOMS in the Microsoft Teams web application.
Start by opening YAROOMS in your Microsoft Teams app (1) and go to the office map (2). Available spaces are green - press on the one you want to book (3).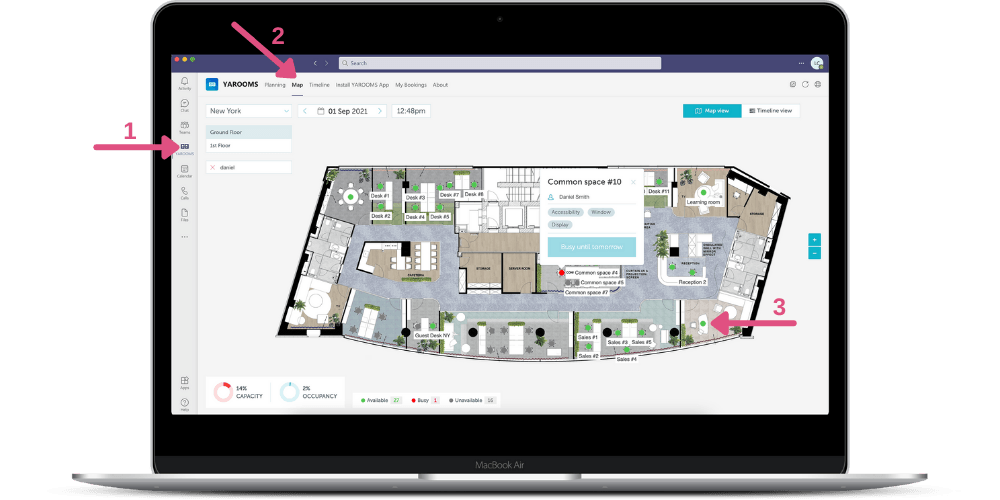 Now, you can select one or multiple days for your booking (4). Proceed by specifying the time for your reservation (5). You can reserve spaces either for an entire workday or predefined / custom intervals.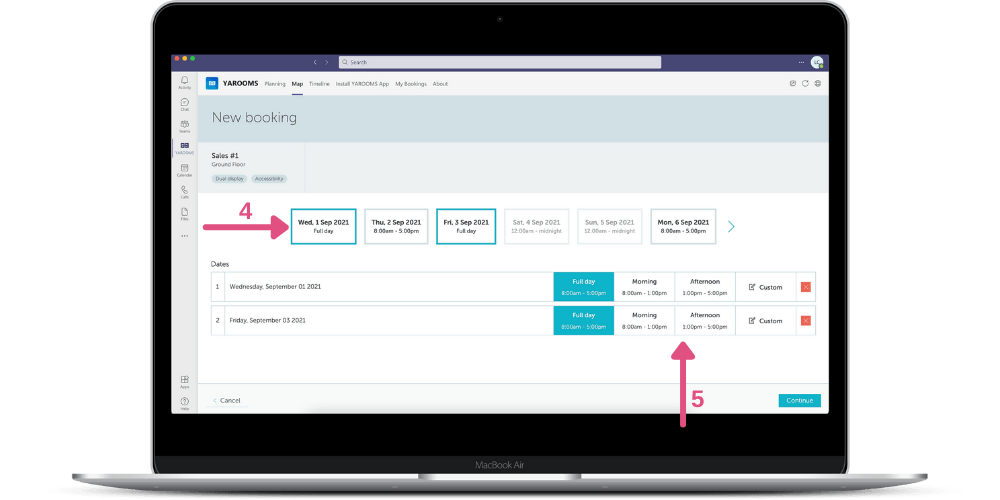 Review your time and date selection and, if applicable, specify additional details about the reservation (6).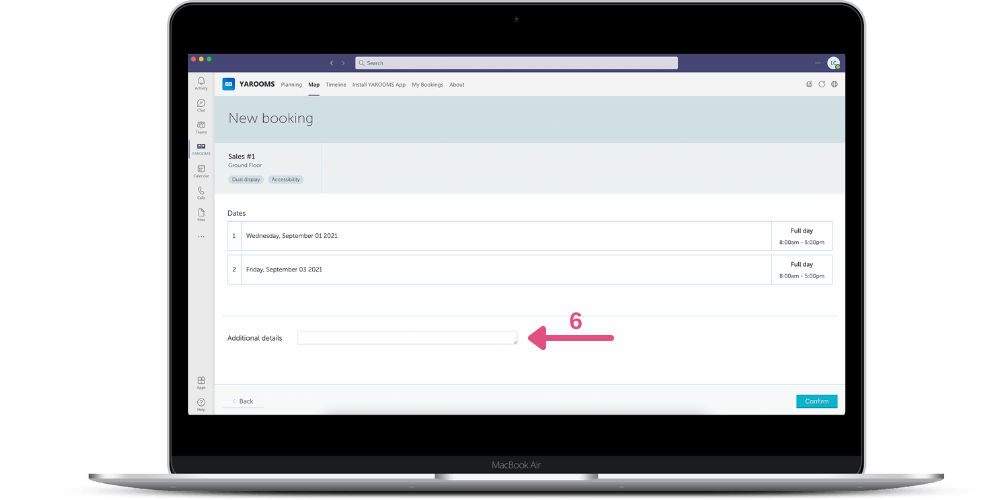 The booking is complete! An email confirmation is coming your way.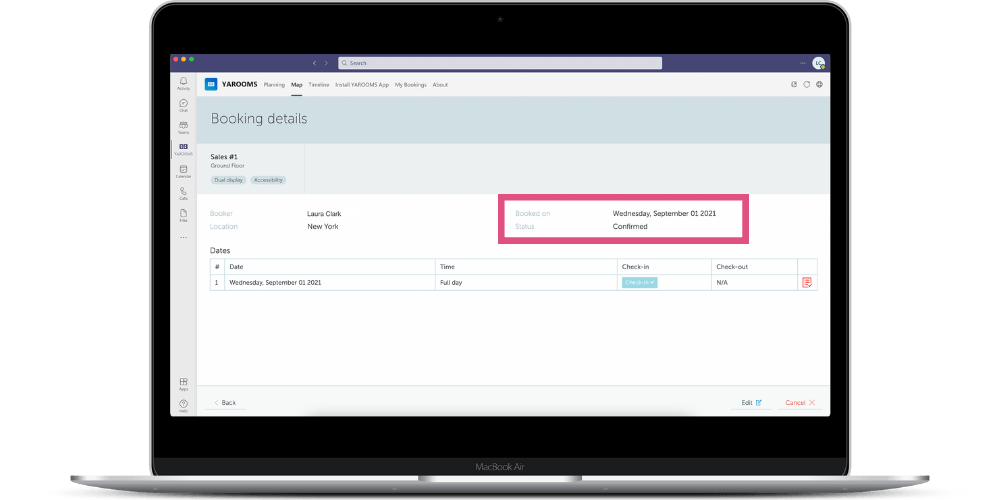 Check out YAROOMS on Microsoft AppSource. If you are a Microsoft Teams user and would like to set up a YAROOMS solution, reach out to us!