In the traditional depiction of workplace experience, its 3 key elements - culture, environment, and technology - are distinct responsibilities of 3 separate departments - human resources, facility management, and informational technology.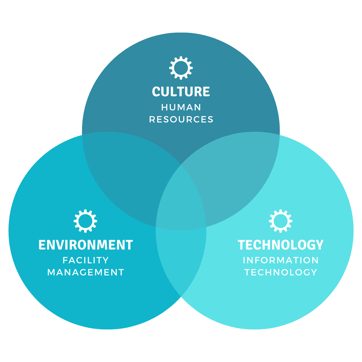 However, the worldwide lockdown, followed by the rise of the hybrid work model, has shown that the biggest power to adapt and transform lies within the organization's ability to join forces for a common goal. To succeed, stepping out of the comfort zone of clear-cut IT, HR, and FM responsibilities become inevitable. Instead of 3 steering wheels to drive the workplace experience, today's modern organizations have only one - collaboration: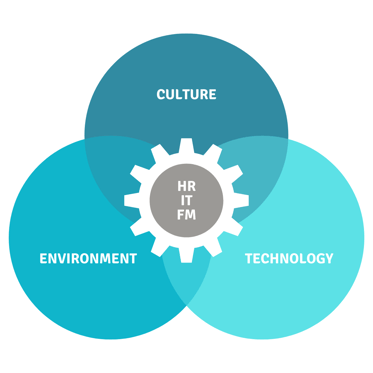 Let's dig deeper into how IT, HR, and FM professionals can team up and leverage culture, environment, and technology to facilitate workplace transformation.
Culture
Positive, empathic, and transparent managers are critical to a workplace's success, but leadership, primarily if it stems from example, is not limited to personalities. It's the processes that allow leaders to practice what they preach and build organizational trust.
In the context of workplace transformation, high organizational trust means employees' willingness to identify with the company and participate in the ongoing change, including cultural. For example, the motivation to get involved in diversity or development efforts is likely to be stronger if employees feel confident about their organization. At the same time, well-being initiatives coming from poorly aligned, inconsistent leadership might miss the target.
HR, FM, and IT departments can skyrocket organizational trust (and, consequently, workplace culture) by deepening their collaboration. By deepening, we mean going beyond joint initiatives and engaging in thorough reflection over contradictory points, establishing preventive measures, and striving for equal participation in decision-making. The latter might even involve changes in the organizational structure, as it is still common to grant higher management positions to HR and IT representatives, leaving facility managers behind the boardroom door. It's time to understand that all three parties' involvement is essential to creating an efficient and credible workplace culture.
Environment
The hybrid model enables work from anywhere, whether it's the office, home, or a pubic space like a café. To employees, it brings expanded freedom of choice, yet for organizations, the multiplication of environments equals the multiplication of responsibilities. To reflect this change better, we can update the workplace experience graph: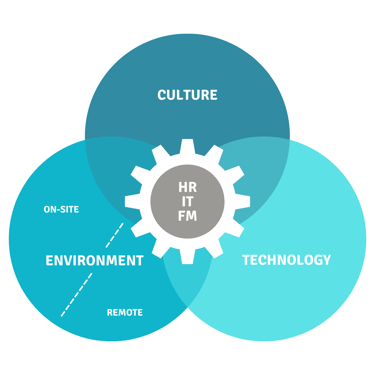 HR and FM, the people strategists, may develop an elaborate plan to enable hybrid work. Still, only collaboration with IT, the technology gurus, can shed light on the most efficient ways to implement it. At the same time, different work environments can be primitively connected using technology, but to make them truly inclusive and interactive, a deeper insight into the workforce is essential.
Technology
Gen Z, the post-millennial generation (people born from 1997 onward), is already entering the workforce, adding extra speed to the workplace transformation. Their digital confidence, short attention span, and the habit of sorting out day-to-day activities using apps and devices (ride-sharing, catering, appointment scheduling, etc.) are increasingly reflected in the organizational strategies.
The new generation of employees craves a smooth, efficient, and interconnected workplace experience comparable to other daily occurrences they are accustomed to. If one can pre-order lunch and schedule a doctor's appointment in few clicks, he should also rapidly book the desired desk at the office and plan work status in advance.
To enable such experiences, IT departments need to understand people and their preferences - that's the insider knowledge that HR and FM managers have. A regular inter-departmental exchange about the trends and preferences circulating among the workforce improves the leadership alignment and helps to select the best tools for building delightful employee interactions with the workplace.
-
While some businesses have enough know-how and resources to consolidate their HR, FM, and IT teams' activities, others might need external expertise. At YAROOMS, we help organizations to enable workplace transformation by syncing up teams and empowering employees to plan their own time. Reach out to us for more information.