In today's business world, adopting sustainable practices is no longer optional —it's a vital necessity. As organizations respond to meeting ESG targets and evolving consumer preferences, the importance of implementing sustainable practices becomes increasingly apparent. McKinsey reports that a sustainability strategy is essential for laying the foundation for long-term investments. However, despite 90% of executives recognizing sustainability's importance, only 60% of organizations have a sustainability strategy in place.
Unlock the Potential of Smart Office Technology
The good news? Smart office technology offers a comprehensive solution for creating eco-friendly workplaces. By automating tasks, optimizing energy usage, and providing real-time data, smart office technology fosters a more intelligent, comfortable, and productive work environment for employees—all while reducing operational costs for companies. Achieving this requires not only cutting-edge software but also hardware designed with sustainable technologies in mind.
This article explores the challenges businesses face when creating a sustainable workplace and demonstrates how Yarooms' hybrid workplace management solution, coupled with Qbic's integrated smart panel PCs as meeting room displays, can help facilitate the transition. Our combined solutions reduce energy consumption and streamline operations, empowering businesses to create a first-rate smart office experience and meet sustainability goals.
Tackling Sustainability Challenges Head-On
Creating an environmentally conscious workplace requires meeting existing systems and practices head-on. The transition can be challenging, with several hurdles to overcome, including:
High Energy Consumption:
Outdated electronic devices often lack the newest and latest power-saving technologies, leading to increased utility costs, a larger carbon footprint, and operational inefficiency. According to LG's publication on the life cycle carbon emission breakdown of digital signages, a notable 83% of emissions are produced while screens are in use. With solutions designed with sustainability in mind, Qbic's devices can resolve these issues right out of the box as we use power-efficient processors and functionalities that promote power-saving practices, such as motion detection sensors that control display dimming when not in use.
Inefficient Resource Usage:
Inefficient management of resources, including paper, lighting, heating, and cooling systems can add to a company's overall carbon footprint. Although many businesses have embraced digitalization by adopting solutions like digital signage, they also lack the ability to tap into comprehensive insights, such as the office's space and resource usage. Collecting and analyzing data helps businesses stand out and excel in sustainability. Yarooms' management solution for hybrid and sustainable workplaces offers valuable insights into office space and resource utilization, supporting informed decision-making.


Employee Health and Productivity:
Overlooking employee health and productivity can result in lost profits and difficulties in retaining talent. Inefficient work processes can increase workloads, stress, and burnout, reducing productivity and raising healthcare costs for employees and employers alike. Smart office solutions should easily streamline processes and improve productivity, freeing employees from routine work. For example, companies can go paperless and help visitors complete sign-in forms three times faster with Yarooms' digital reception assistant, made easy by the vibrant, interactive touchscreens and built-in NFC/RFID support in Qbic's display panels.


Seamless Integration and Sustainability: Qbic and Yarooms Unite
A successful partnership seamlessly integrates two solutions, while an exceptional one fosters lasting operational and lifestyle transformations. Choosing the right solution from the outset is crucial for crafting a sustainable workplace. At Qbic, we've made this effortlessly possible by partnering with like-minded pioneers like Yarooms, a leading workplace management system solution provider.
Yarooms' unwavering dedication to using data to drive sustainable workplace change aligns perfectly with Qbic's design philosophy of developing robust, eco-friendly hardware for the future, as exemplified by our TD series smart panel PCs: TD-1070, TD-1060 Slim, and TD-1050 PRO for room booking.
These meeting room displays and desk booking panel power Yarooms' three smart office solutions: Meeting Room Panel, Lobby Display, and Digital Reception Assistant. Together, our solutions are integral to facilitating a hybrid, sustainable workplace.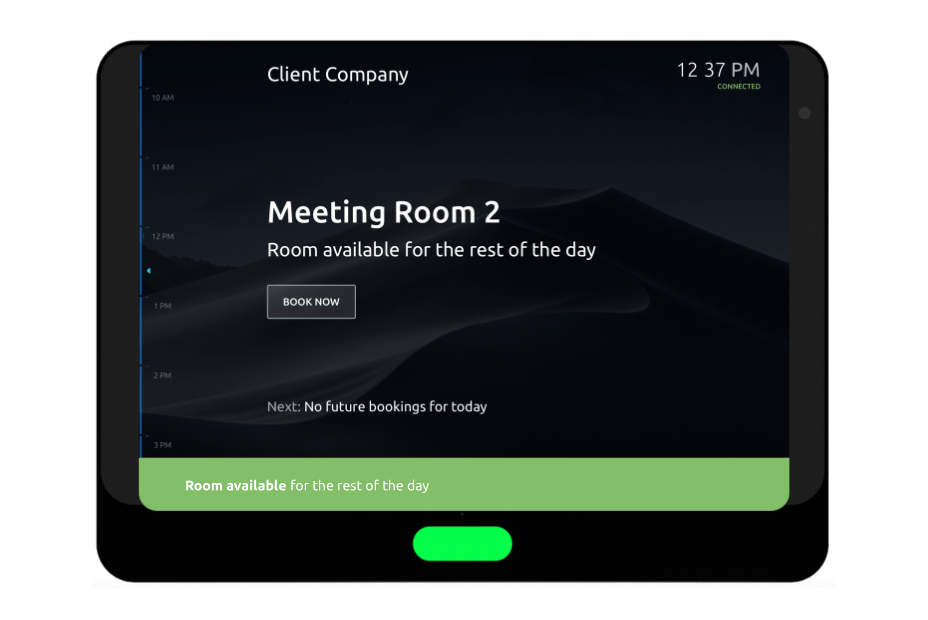 Yarooms Room Panel app & TD-1050 PRO smart panel
Why Opt for Our Combined Solutions?
Energy-efficient Design for a Greener Workplace
Qbic's unwavering commitment to sustainability shines through in our energy-efficient smart panel PCs, designed with power-saving technologies like power-efficient ARM-based processors and features like auto-dimming displays. By partnering with Yarooms' sustainable-focused software design, we provide businesses with workplace management solutions that deliver exceptional performance and ease of use while minimizing environmental impact.
Office facility managers can easily keep track of the status of office resources, spaces, and utilities on our vibrant touch screen panel displays.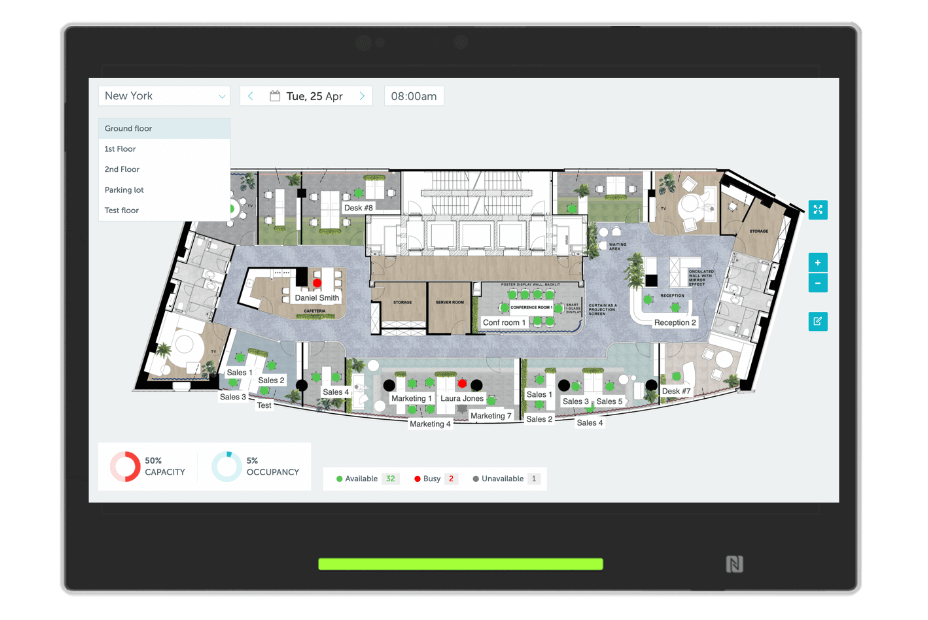 Yarooms floor map with real-time availability overview on TD-1070 smart panel
Designed for Longevity and Scalability
Yarooms is not a stranger to long-term commitment, as creating a culture of sustainability at work requires time and effort. Encouraging employees to minimize commuting and adopt a hybrid work model can yield significant long-term benefits. To achieve these goals, a hardware partner that embodies the same steadfast dedication and values is essential.
Over the years, Qbic has not only built a long-standing reputation as a company that creates robust products but also provides customer and product support beyond your typical industry expectations. Qbic's smart panel PCs are crafted with longevity in mind, with a product lifespan ranging from five to seven years and services components and parts for both old and new products.
Furthermore, we are dedicated to rolling out the latest generational OS upgrades and patch support beyond the industry standard. This ensures our products continue to perform optimally, reducing the need for frequent hardware replacements, achieving better energy optimization, and strengthening Yarooms' software compatibility to ensure minimal downtime and maintenance requests.
As a 2023 Excellence in Customer Service Award winner, Qbic's is invested in our clients' long-term success and the seamless expansion of our solutions as your organization grows. Our combined solutions can adapt to businesses of all sizes and make the benefits of a sustainable workplace accessible to everyone.
Conclusion
Qbic and Yarooms' shared vision of creating smart, sustainable workplaces has created a foundation for a partnership that integrates cutting-edge technology with environmentally conscious practices. We deliver solutions that optimize workplace efficiency and productivity and contribute to a greener, more sustainable future.
To learn more about our innovative solutions and how they can transform your workplace, visit Qbic's website or contact our team of experts today, and let us help you create a sustainable and efficient work environment tailored to your organization's needs.