About Mercury Insurance
Personal auto, home, renters, and business insurance are all available through the multi-line insurance company Mercury General Corporation. Mercury, a Los Angeles-based company founded in 1961, has assets of more than $6,7 billion, 4,400+ employees, and more than 9,400 independent agents spread throughout 11 states.


The challenge
For many companies, returning to the office after the pandemic was a welcomed transition. For others, it created new challenges that needed to be addressed rapidly to organize a smooth transition back to work. Mercury Insurance was no exception to these challenges.

As they decided to become a hybrid company, they no longer needed a permanent desk for every team member, and not all offices were open for returning employees. Because of this, the Facility Management team could not guarantee that everyone would be able to get the seat they needed with the equipment required in every location. Mercury Insurance started looking for a reliable solution to ensure a smooth "return to the office" experience for their team members.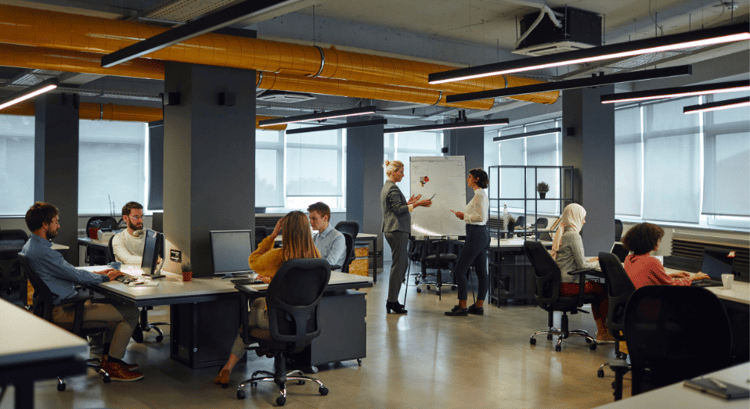 The solution
After carefully researching and dissecting several potential reservation solutions' pros and cons, YAROOMS, which was recommended by an executive from another company, became the solution Mercury Insurance decided to implement.

YAROOMS provided an integration that is an easy-to-use desk reservation system within Microsoft Teams. Now, Mercury Insurance employees can reserve the space they need on their own, with the equipment they need, and within the areas of the building required for both team gatherings and individual daily seating requirements.

Utilizing YAROOMS experienced onboarding team, Mercury Insurance was able to create a customized and branded workspace management solution. Custom floor plans allow everyone at the company to easily navigate their office and find the space they need. YAROOMS also helped Mercury Insurance by customizing the solution to include hyperlinks to other internal workplace tools. These hyperlinks made YAROOMS an important landing page for everyone working in the office. For example, if someone needs to connect their laptop to the area printer, YAROOMS hyperlinks them directly to the Mercury Insurance internal printer self-installation website.
---
Bree El Fattal

Facilities Sr. Manager
"The YAROOMS team was extremely accommodating with all our customizations and continues to be very attentive to our change requests. Other solutions we evaluated were nowhere near as flexible with customizations. When we had a request or an idea that would be unique to our company, YAROOMS would listen to our needs, adjust on the fly, and make it work for us. Even though YAROOMS' primary support is out of country, they adjusted their calendars to attend every meeting with us. Being out of country had zero impact on delivering their solution on time."
---
Results with YAROOMS
With YAROOMS workspace management solution, Mercury Insurance team members can reserve desks, offices, and conference rooms that best match their needs. It also made it easier for the Facility Management team to ensure their employees had a reserved desk with all the equipment needed to work successfully on any given workday as well as letting them know which desks got used each day so they get cleaned and sanitized after usage.

Before implementing YAROOMS, Mercury Insurance employees would contact Facilities with questions and requests related to workspace reservations. YAROOMS helped to make the management of the office easier for the Facilities department. Now the company has a stress-free space reservation solution that reduces human errors, provides usage analytics, and makes the office a safer place to work!
---
Charles Camplese

Project Manager
"The YAROOMS team gave us the ability to make a custom-built product that conformed to exactly what we wanted. YAROOMS "Can Do" attitude made the difference for us and now we have a special solution for everyone in the office. They met all our requirements!"
---