About Jigsaw Insurance
Jigsaw Insurance is an insurance broker specializing in protecting people and what matters to them - from car and pet insurance through to breakdown cover.

Their successful brands include Rescuemycar.com which provides a range of breakdown recovery services, NCI Insurance transacting private car insurance products and 4Paws Pet Insurance which offers a comprehensive choice of pet insurance policies.

Currently, Jigsaw Insurance employs a team of 135 at their office in the center of Harrogate, United Kingdom.



The challenge
As we emerge from the pandemic, many businesses are focusing on the new paradigm of work, that is, flexible, digital, and employee-centric. Jigsaw Insurance embraced flexibility by shifting to the hybrid work model and asked its operational teams to work in the office one week per month. Meanwhile, business support teams (HR, IT, back office) were allowed to set up their own hybrid schedules and come on-site whenever they wanted.

What about the digital part? Well, department managers were using Excel spreadsheets to oversee seating arrangements and allocate desks to employees. This kind of manual planning was not only time-consuming, but also prone to human error which, in turn, led to dissatisfaction and annoyance among staff. Jigsaw Insurance needed an office space management solution that would help them fuse agility, tech, and positive employee experience in the modern hybrid workplace.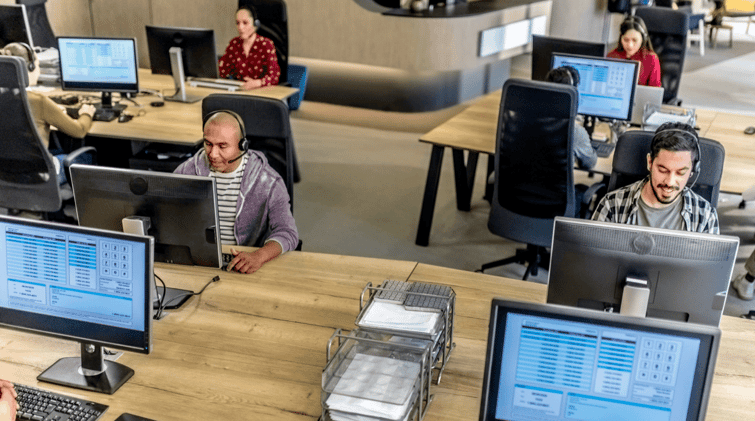 The solution
YAROOMS desk booking solution helps Jigsaw Insurance manage desk reservations and not only – it is also successfully used to book meeting rooms and parking spaces. The latter, our customer admits, has been an absolute revelation as it stopped employees from arguing about who's getting what parking spot.

Frequent office-goers at Jigsaw Insurance find YAROOMS Mobile application the most convenient way to schedule their workday in all types of spaces on the go.

The check-in functionality is handy for managers who want to check if employees are present while the interactive floor map facilitates teamwork and brings visibility to everyone in the office. Moreover, Jigsaw Insurance can easily include visitors (external insurers) in their office seating plans thanks to the "booking for external users" functionality.



Results with YAROOMS
Jigsaw Insurance started using YAROOMS in the middle of the coronavirus pandemic, so the solution played an important role in building the return-to-work strategy and implementing necessary workplace safety measures such as capacity restrictions and physical distancing.

With YAROOMS, the company transitioned from manager-led planning to autonomous employee planning. Giving everyone in the team freedom to book their preferred workspaces resulted in a significant decrease in lost management time. To put it in numbers, Jigsaw Insurance can save 1 team leader FTE worth of time - that translates to £21,000 to £23,000 per year!

While space booking is now in employee hands, team leads still have control and visibility over who's in the office and where. Besides seeing real-time capacity and occupancy stats, managers can also use a comprehensive workplace analytics section that brings clarity over metrics such as average office space utilization, the number of no-shows, the number of bookings, and many more.