Much more than space management
A modern desk or room booking solution is the best way to tackle office space management challenges. It is irreplaceable if you want to get started with hot desking or desk hoteling. It can help ensure compatibility with physical distancing standards. It generates invaluable insights about space utilization.

Yet, workplaces are more than walls, desks, and seating arrangements.

YAROOMS work planning module brings your space management to a whole new, employee-centric level. It gives everyone the freedom to independently decide where they want to work on a given day. Additionally, a calendar-like overview of the colleagues' work arrangements increases workplace visibility and simplifies collaborative activities.
Here's how it works:

Learn more about YAROOMS hybrid work planning software >>
Additionally, for companies that want to become carbon neutral, YAROOMS provides tools - Carbon dashboard and Employee commute profile - to bring more sustainability into their workplaces.

Learn about sustainable workplace solutions >>


Integrated workplace experience
Your technology should support the dynamics of your workplace. In the fast, mobile, always-on hybrid world, employees need solutions that don't tie them down to one tool, one location, or one desk. They call for an integrated workplace experience.

We create it by leveraging the technologies you already use and love.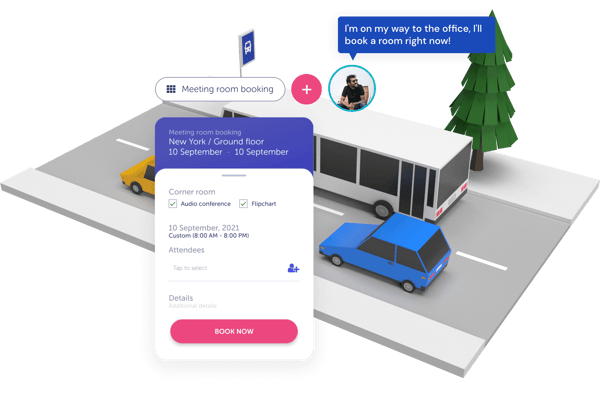 For example, you can install YAROOMS as a Microsoft Teams channel tab or a personal ribbon app and make it available to your entire user base in minutes. Skip the long onboarding process: in the familiar Teams interface, office spaces can be effortlessly booked even by a first-time user.