Your one-stop shop for a flexible workplace experience
YAROOMS is a modern workplace experience platform that combines desk booking, room booking, digital signage, hybrid work planning, visitor management, and CO2 emissions' tracking functionalities for a top-tier workplace experience.

For companies looking to improve their space management, our easy-to-use desk and room booking app is the best way to go. It is irreplaceable if you want to get started with hot desking or desk hoteling or gain insights about space utilization.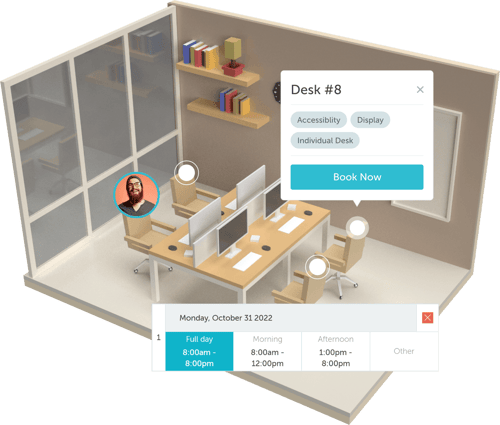 But workplaces are not only about desks and meeting rooms. It is also about employees and their experience.

Our hybrid work planning calendar is probably one of the most important tools when it comes to employee centricity. It allows everyone in your organization to set up their work arrangements (at home, in the office, out of the office) and stay up-to-date with others' planning. You can define planning targets or work-from-home thresholds, align scheduling with occupancy parameters, and ensure planning visibility.
See the YAROOMS hybrid work planning calendar in action:
Discover the full workplace experience platform >>


The next natural step towards net zero
In the past few years, the workplace experience has been shifting more than ever. Companies around the world had to switch from working in the office to fully remote work and, in the end, found themselves implementing the hybrid work model. While companies have been quick to adopt various workplace experience solutions to manage these transformations, by the time they did so, new challenges appeared. Today, the rising importance of sustainability is adding pressure on all forward-thinking companies. Does it mean that we need new tools to address it? But what if we didn't have to invent a new solution every time? And what if the tools we already use were agile enough to accommodate what the future demands?

YAROOMS is a solution just like that. We help companies to make that next natural step toward carbon neutrality in a cost-efficient way, without investing in new, complex tools. Book your place into the future of work: accurately track and forecast everything about your CO2 emissions in a 100% digital and integrated workplace management system.
Here's how our Carbon Dashboard looks like:

Read more about YAROOMS sustainable workplace solutions >>

Customers love us for ease of doing business with
We at YAROOMS are dedicated to empowering companies to have a positive impact on the world because we really believe that they can.
That wouldn't be possible without excellent onboarding and client service. We stand out from other market vendors thanks to our team's commitment to providing the finest service possible. Don't just take our word for it: G2 user feedback-based reports identify YAROOMS as the easiest to do business with among other flexible workplace platforms.