Flexible workplace management made easy
Any new tool will be successfully adopted in the organization only if it simplifies the current processes instead of making them more complicated. No matter how complex your desk booking, flexible work planning, or visitor management rules are, the end-user experience should be a breeze.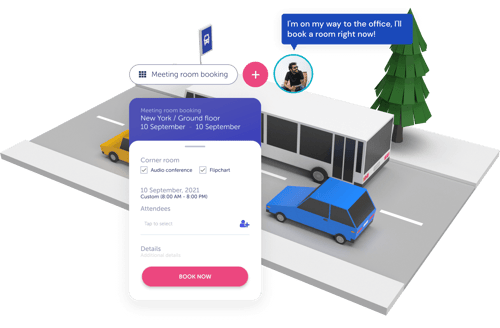 YAROOMS is a customer-voted market leader when it comes to high user adoption and usability. We know why: all our solutions - from desk or room booking to digital signage and visitor management - are intuitive and do not require any prior training. Moreover, organizations that use Microsoft Teams can install YAROOMS booking software as a Teams channel tab or a personal ribbon app and make it available to your entire user base in minutes.
Discover the full YAROOMS Workplace Experience Platform >>

The workplace of the future is sustainable
Embracing a more sustainable approach to workplace management is only natural. But how to do it?
The first step in reducing our impact on the environment is...comprehending it. And this can only be done if we have data at hand. For example, what are your company's CO2 emissions? What part of it is generated by business travel or employee commute? Knowing this information is essential to stay compliant with sustainable business standards and understand the areas for improvement.
With YAROOMS Carbon Dashboard, you can monitor and report on the location's CO2 Scope 2 emissions generated by the use of office facilities, as well as the company's Scope 3 emissions that occur because of the employee commute. Moreover, you can use it to estimate the future use of your office resources (such as water, electricity, or gas), understand its footprint, and track your progress in reducing it.
See our Carbon Dashboard in action:

Read more about YAROOMS sustainable workplace solutions >>

Making the difference with impeccable service
Our commitment to delivering excellent customer service distinguishes us from other vendors in the market. Don't just take our word for it - better see what our happy customers have to say:

"We highly recommend YAROOMS - it delivers everything that's promised. Great service and support, too. I like the constant development - every now and then, new features are added to the solution, and each of them seems to be helpful in one way or another". - Ashley Jarvis (Digital Information Coordinator), Focus C.I.C.

In the latest G2 user feedback-based reports, YAROOMS is highlighted for the highest user adoption and nominated as the easiest to do business with.