Upon the big return, an important premise to establish in all common spaces will be a 6 feet (approximately 2 meters) distance between people. But while everyone talks about it, many stay unsure how to put this safety measure into practice.
Blend On-Site and Remote Activities
In our previous blog post, we wrote that the office re-entry must be a gradual, one step at a time process. One of the reasons is that the majority of workplaces do not have the capacity needed to bring a full set of employees back to their desks at once. This situation is nicely illustrated by Buro Happold, which used a predictive modelling tool to come up with 4 scenarios, demonstrating how well an office can maintain social distance at various rates of occupancy. The results show that any workplace with a rate higher than 40% cannot effectively deal with social distancing.
This conclusion applies to any other common space, including educational institutions. Therefore, everyone will need to do the math: calculate the optimal occupancy of shared spaces, and draft the return plan accordingly. It is safe to say that for a while, work and study processes should be organized by combining on-site and remote activities. For example, by establishing office or lecture attendance on a rotational basis.
Enforce Capacity Limitations
Shrinking the flow of people won't solely solve the problem. Even the reduced number of students or employees will need to be safely accommodated in shared facilities. Spacing out desks and seats can increase the compliance with distance requirements, but not all layouts are flexible enough, so the capacity restrictions must come in place. Considering the previously mentioned predictive scenarios, the capacity of any enclosed space of limited size, from building to meeting room or lecture hall, could be reduced by up to 50%.
To simplify this process, this week we are introducing a new feature to the YAROOMS Core meeting room booking solution. Now, the administrator can set a maximum number of people each area can accommodate, and restrict them being used by groups surpassing predefined limitations. The feature can enforce capacity constraints on two levels: location and room, ensuring all-round space management.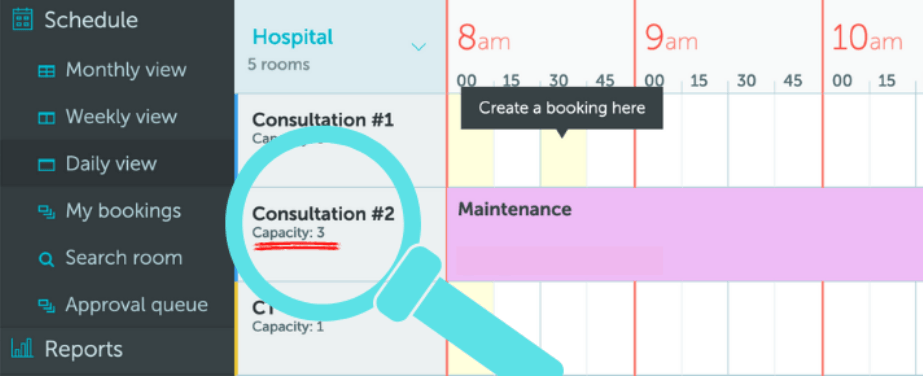 Unleash Creativity
As China is making cautious steps back to normal, a school in Hangzhou came up with an original homework task for students: to design and wear one-meter diameter hats. This creative headgear with long wing-like flaps allows them to experience social distancing at every step, instead of simply imagining it.
Therefore, giving social distance more palpability could be a great idea, especially in places such as libraries, canteens, or relaxation areas. It can be easily done by involving creative visual and design elements, just like Cushman & Wakefield successfully did in their recently introduced 6 Feet Office. For example, colorful direction arrows can be installed on the floor in order to conduct people movement and create one-way traffic, as in hospitals. Similarly, custom-sized mats to put around the desk or temporary wall stickers with measurements could work as a constant reminder to "stay away" and would help people identify safe, less-crowded areas to work at.
---
Understanding the optimal flow of people and calculating space capacity limitations is a fair starting point to implement the social distance principles in any corporate or educational setting. Combine it with a creative design approach to make the revival of public spaces more fun, and not all about restrictions.
Read about implementing social distancing features with YAROOMS in our help section