Plan ahead: unlimited desk and room booking timeline
At YAROOMS, we like to plan ahead, whether it's tasks, spaces, or work arrangements. That is why our hybrid workplace solution allows an unlimited room and desk booking timeline so that you can start working on your space schedules as early as you need.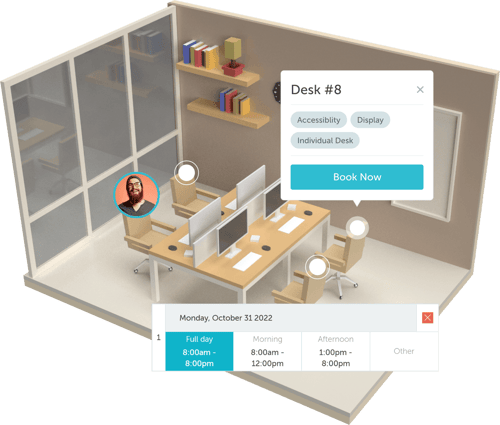 Scheduling a distant event is as simple as making day-to-day bookings: it will instantly appear in the YAROOMS calendar, whether it's 3 months or one year in advance.
Sustainable workplace experience
The workplace of the future is sutainable. That's why for companies looking to understand and reduce their carbon emissions, YAROOMS provides a cost-efficient way to do so:
Monitor and report on the location's CO2 Scope 2 and Scope 3 emissions.
Estimate the future use of water, electricity, gas, and other office resources.
Keep track of your employees' commute routines and understand how they impact environment.
Track your progress toward net zero.
Here's how it works:
Read more about sustainable workplace solutions >>
Get things done
We strive to make a difference with impeccable service and onboarding. Our team's attitude to get things done distinguishes us from other vendors in the market. In the latest G2 user feedback-based reports, YAROOMS is named as the easiest to do business with, among other hybrid workplace software providers.