The most cost-efficient way to a sustainable hybrid workplace
"Finding innovative solutions to workplace issues has always been a top priority for us as a platform for the global working experience. During the pandemic, hundreds of organizations adopted hybrid work with YAROOMS. Therefore, it only makes sense to keep developing so we can confront new challenges and satisfy our clients' long-term goals, including sustainability.

Tracking CO2 emissions is the first step in what is going to be the new class of workplace software - one that prioritizes goals and gives employees the freedom to actively contribute to them", - says Dragoş Badea, CEO of YAROOMS.

YAROOMS helps you make the next natural step in workplace management. Monitor and report on your location's Scope 2 & Scope 3 CO2 emissions, estimate the future use of your office resources, visualize its carbon footprint and track your progress towards net-zero CO2.
Take a sneak peek at our Carbon Dashboard:
Learn more about YAROOMS solutions for your sustainable workplace >>

No more bouncing between workplace applications
An average employee wastes as many as 32 days a year toggling between multiple workplace applications. Therefore, the purpose of integrating different software solutions, as we see it, is to enhance the user experience and reduce digital distractions.
The YAROOMS integration with Microsoft Teams is not confined to notifications that direct you to yet another web app. We designed it so you can access your workplace directly in Teams. Simplify daily scheduling, save time, and reserve spaces without exiting your favorite collaboration platform.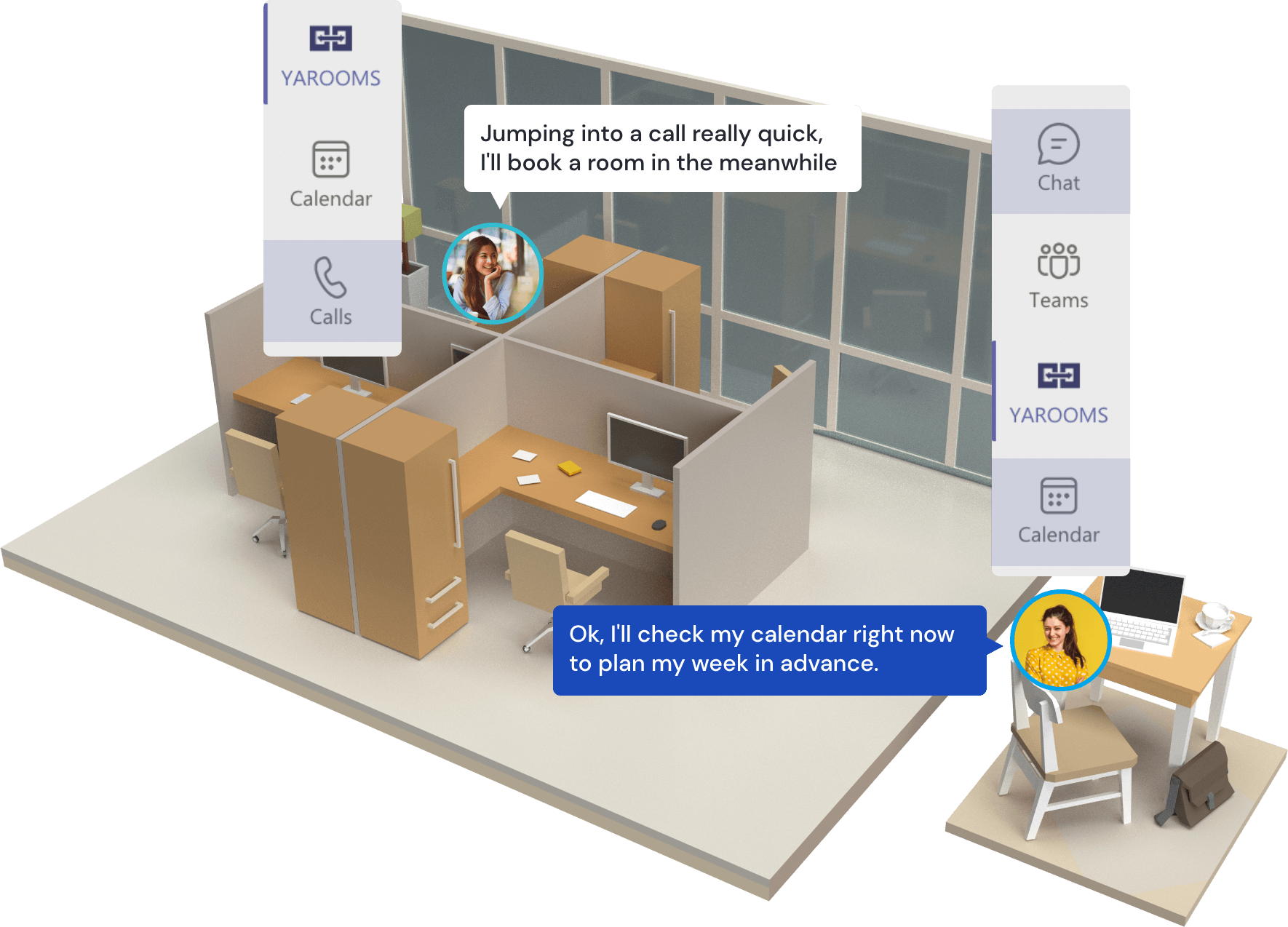 Discover the YAROOMS Integration with Microsoft Teams >>

Loved for ease of doing business with
At YAROOMS, we are firm believers in the potential of businesses to make a positive impact on the world - and we are all about empowering companies to achieve it by creating amazing workplace experiences and minimizing their CO2 emissions.

That wouldn't be possible without impeccable service and onboarding. Our team's attitude to get things done distinguishes us from other vendors in the market. Season by season, G2 user feedback-based reports highlight YAROOMS as the easiest to do business with, among other flexible workplace platforms.