Power to power users
For a new solution to work well in an organization, it should make things simplier, not more complicated. The most important thing is that the people using the tool find it easy to use and easy to administer.
YAROOMS is a market leader when it comes to user adoption and usability. Our Workplace Experience Platform is intuitive and does not require any prior training. Moreover, organizations that use Microsoft Teams can install YAROOMS booking software as a Teams channel tab or a personal ribbon app and make it available to the entire user base in minutes!
We also ensure that power users have full flexibility to tailor the platform to their business rules. No need for constant support calls or frustrating back-and-forth with IT.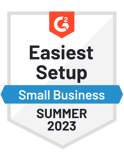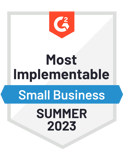 Learn more about YAROOMS Workplace Experience Platform >>
Data to pave your way to a sustainable workplace
If you want to create a sustainable workplace, you need data to make it happen.
YAROOMS Workplace Experience Platform helps companies track essential sustainability data without investing in new complex tools. You can monitor and report on your location's Scope 2 and Scope 3 emissions with the same platform you use for office booking and hybrid work planning.
See it in action:

Explore YAROOMS solutions for sustainable workplaces >>
Amazing workplace experience. Hands-on support.
When it comes to customer support, rapid problem resolution and uninterrupted productivity are our main KPIs.
In the latest G2 user feedback-based reports, YAROOMS is highlighted for the best customer support and nominated as the easiest to do business with.
"The YAROOMS team was extremely accommodating with all our customizations and continues to be very attentive to our change requests. Other solutions we evaluated were nowhere near as flexible with customizations. When we had a request or an idea that would be unique to our company, YAROOMS would listen to our needs, adjust on the fly, and make it work for us. Even though YAROOMS' primary support is out of country, they adjusted their calendars to attend every meeting with us. Being out of country had zero impact on delivering their solution on time.", - Bree El Fattal, Facilities Sr. Manager, Mercury Insurance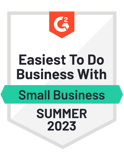 Read the full Mercury Insurance story >>
Transparent pricing without hidden costs
When it comes to pricing, we're all about being clear and upfront. The Business and Enterprise plans are based on the size of your organization and the value YAROOMS brings to it. Simply choose one that fits your organization and pay for the features you actually need. Full transparency, no hidden costs.