One solution for all your needs: from flexible space management to hybrid work enablement
YAROOMS is a hybrid workplace solution that combines desk booking, room booking, digital signage, work planning, visitor management, and CO2 monitoring functionalities for a top-tier workplace experience.

For those looking to tackle their office space management challenges, a modern desk and room booking app is the best way to go. It is irreplaceable if you want to get started with hot desking or desk hoteling. It can help ensure compatibility with physical distancing standards. It generates invaluable insights about space utilization.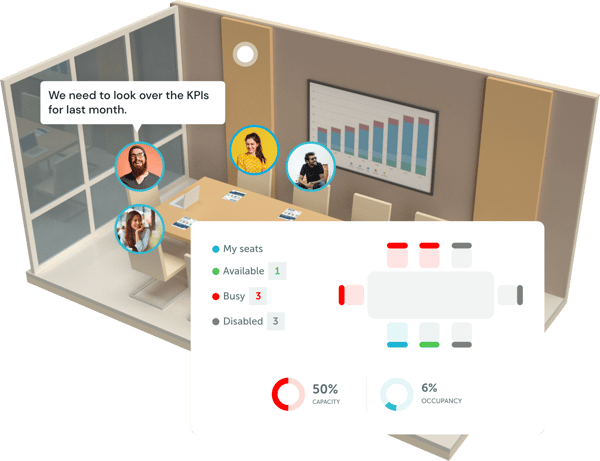 But workplaces are not only about cubicles, individual desks, and conference rooms. It is also about employees, their schedules, their safety and wellbeing. So, if you are looking for software that goes beyond space management, you are in the right place.

YAROOMS is rich with features that can help you create a truly employee-centric workplace. For example, the work planning module gives everyone the freedom to independently decide where they want to work on a given day. Additionally, a calendar-like overview of the colleagues' work arrangements increases workplace visibility and simplifies teamwork.

Meanwhile, the workplace survey is a powerful tool to listen to what your teams have to say. You can measure the office satisfaction with a short questionnaire, sent to employees after their visit to the office.
All of this is accessible to our users as one full-fledged solution that can grow together with your organization -- no need to purchase multiple apps.
Discover the YAROOMS solutions hub >>

Bringing sustainable experiences to workplaces
We are firm believers that businesses have an immense potential to make a positive impact on the world by creating sustainable workplace experiences. That's why for companies looking to go green and reduce their carbon footprint, YAROOMS provides a cost-efficient way to do so:
Monitor and report on your CO2 Scope 2 and Scope 3 emissions.
Estimate the future use of office resources
Keep track of your employees' commute and incentivize them to reduce its footprint
Track your progress on your way to carbon neutrality

Learn more about YAROOMS solutions for sustainable workplaces >>