Hardware-free workplace analytics
Knowing how employees interact with the workplace can help you design a cost-efficient space management strategy.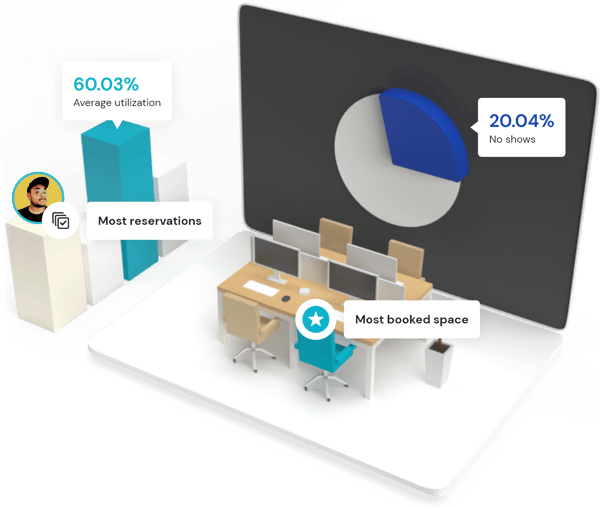 Dive into your space booking statistics: an interactive YAROOMS floor map comes with the real-time availability and occupancy status tracking. Meanwhile, a comprehensive workplace analytics section provides insight on how office spaces are used. You can review the utilization data, spot trends, and make the most out of your office without setting up additional hardware, such as occupancy sensors.
Learn more about YAROOMS workplace analytics >>

Sustainable workplace: it's only natural
For companies looking to become more sustainable, YAROOMS provides a cost-efficient way to track and forecast their CO2 emissions.

With the YAROOMS Carbon Dashboard, companies can monitor and report on their locations' Scope 2 & Scope 3 emissions, and track their progress towards net-zero. Meanwhile, using the Commute profile functionality, employees can specify their regular commute details. The aggregated data from the employee commute profiles is shown on the Carbon Dashboard so companies can understand it better and find ways to reduce it.

Discover YAROOMS solutions for sustainable workplaces >>


Transparent pricing for all business sizes
Our pricing strategy is straightforward and transparent. The Corporate and Enterprise plans are based on the size of your organization and the value YAROOMS brings to it. They cater to different business needs, be it basic desk management or full hybrid work enablement. It's simple: just pick one and pay for the features you need.