Seamless integrations with technology that you already use and love

An efficient workplace experience solution should cover 3 key requirements. It must be:

Easy to use - despite the complexity of your business rules and requirements, the end-user experience should be effortless.

Easy to implement, as long and tedious implementations cause process delays, frustration, and can drastically eat into your ROI.

Interoperable - workplace management system should blend into your IT infrastructure and be compatible with other business tools. Even better if it's able to operate as part of them.

The YAROOMS Workeplace Experience Platform ticks all three checkboxes: it is simple to use, fast to implement, and it also seamlessly integrates with the go-to workplace collaboration hub at the moment: Microsoft Teams. Differently from other solutions on the market, our MS Teams integration covers all types of spaces: from meeting rooms to desks and even parking lots.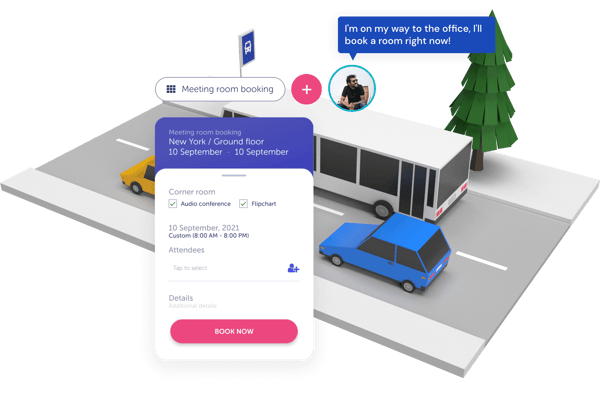 You can make YAROOMS available to your entire user base by installing it as a Teams channel tab or a personal ribbon app. Everyone in your organization can start booking desks, meeting rooms, or check-in to reserved spaces immediately. No additional training is required, as users can navigate YAROOMS in the familiar Microsoft Teams interface.

Data to pave your way to carbon neutrality
YAROOMS is a leading platform for office experience that helps businesses in monitoring their carbon emissions while conveniently managing people and spaces in a hybrid work environment.

If you're looking to go green, you need data to make it happen. That's why our fully digital workplace management system helps businesses track and forecast their CO2 emissions as they work towards carbon neutrality.
Check out how it works:
Quality support for hybrid workplaces

We strive to make a difference with impeccable service. Our team's attitude to onboarding, guiding, and supporting the customers distinguishes us from other vendors in the market. In the G2 user feedback-based reports, YAROOMS is regularly highlighted for the best customer support and nominated as the easiest to do business with.