We are happy to introduce the newest addition to our sustainability solutions lineup: the work-from-home emissions tracker. It will help companies have a more precise overview of their Scope 3 impact.
With the new functionality, companies can easily track and report the emissions generated by employees working from home. These emissions are estimated based on the country according to the GHG protocol.
All valuable data is seamlessly integrated into the company's Carbon Dashboard, alongside information from previously available facilities and commute emissions trackers: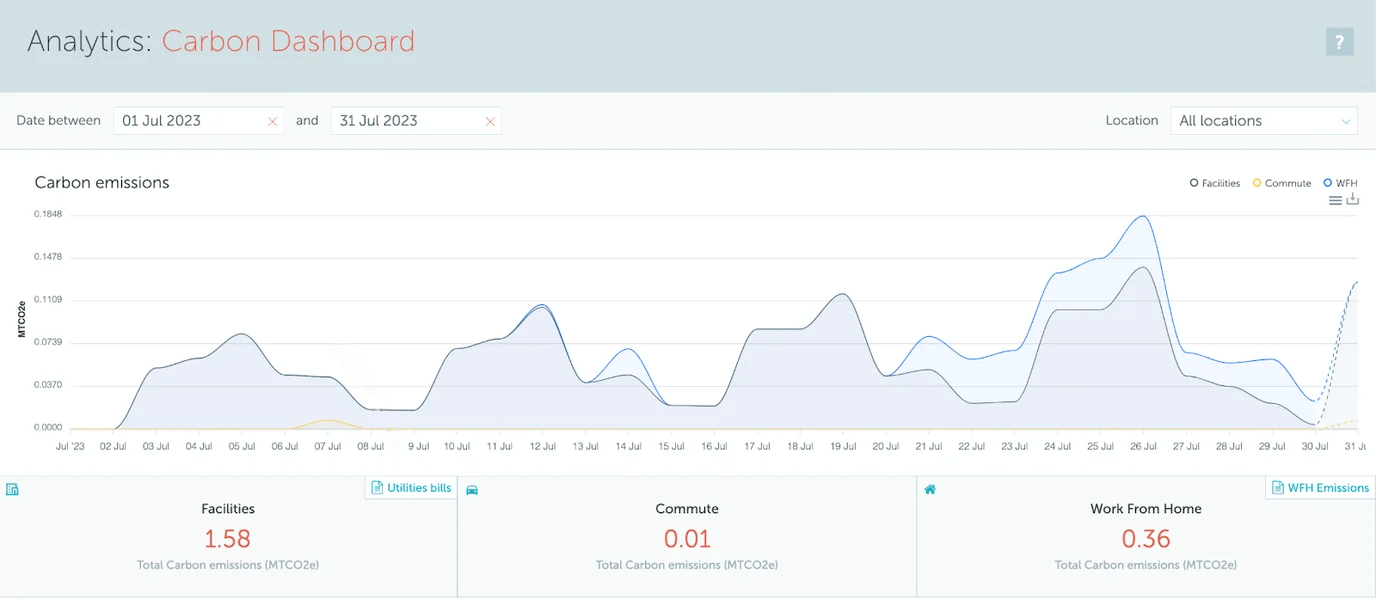 Factors Contributing to Work-From-Home Environmental Footprint
Let's see some of the factors that contribute to the environmental footprint associated with working from home:
Increased energy consumption at home

due to prolonged use of heating/cooling systems and electronic devices.

Dependence on electronic devices and technology

. These digital tools are essential for remote workers, but they come with their own environmental costs.

And as the use of electronic devices increases, so does the

need for material extraction, supply chain logistics, and end-of-life disposal,

all of which have significant environmental impacts.

In addition,

the impact of shipping goods

in the context of remote work must be considered. There may be an increase in the shipping of office equipment, which causes emissions through transportation.
YAROOMS for Sustainable Workplaces
YAROOMS Carbon Dashboard provides the data needed to meet the carbon emission objectives and build a more sustainable business culture.
Using the Dashboard, companies can track and visualize their CO2 Scope 2 emissions generated by office facilities and their Scope 3 emissions that occur because of the employee commute or work from home. The Dashboard helps companies estimate the future use of office resources (such as water, electricity, or gas), understand their carbon footprint, and track the progress in reducing it.
"As a global workplace experience platform, we have always prioritized finding creative solutions to workplace problems. During the pandemic, hundreds of organizations adopted hybrid work with YAROOMS; hence, it only makes sense to keep innovating to face new challenges and meet our client's long-term sustainability objectives.
Tracking work-related carbon emissions is the first step in the new class of workplace software - one that prioritizes goals and gives employees the freedom to contribute to them actively", - says Dragoş Badea, CEO of YAROOMS.