This article explains what is YAROOMS Outlook add-in and how to install it.
The YAROOMS Outlook add-in extends the functionality of YAROOMS Microsoft 365 integration. It enables users to quickly find and book YAROOMS resources (spaces) directly in Outlook.
How to install YAROOMS Outlook add-in
The main prerequisites of using the Outlook add-in are:
Having the Microsoft 365 integration configured
Having YAROOMS rooms mapped with Microsoft 365 resources.
To install the add-in, go to Manage > Integrations > Microsoft 365 > Configure > Outlook add-in, download manifest.xml file and follow the instructions on the page.
The user installing the add-in must have Exchange Administrator or Global Admin permissions in Microsoft 365 Admin Center.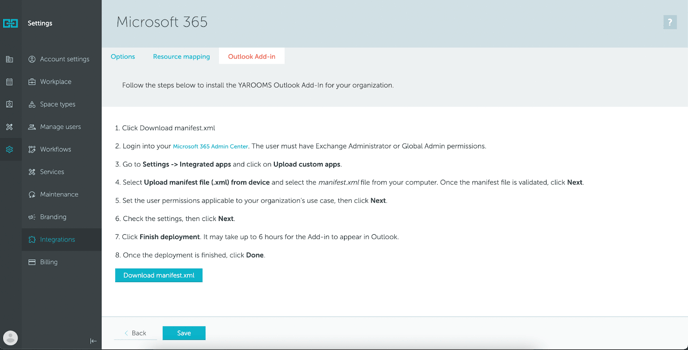 Once the add-in installation is complete, all users in your organization will have a new room finder in Outlook.
It may take up to 6 hours after installation for the add-in to appear in the user's top bar.
When creating a new event, users will be able to:
Choose a room using the standard Outlook interface
Use the add-in that will allow them to filter rooms depending on specific features or amenities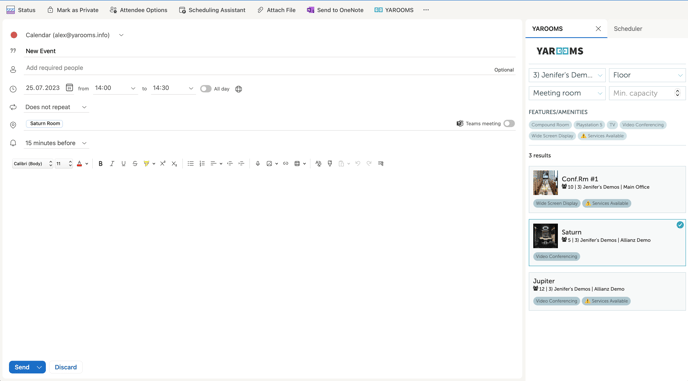 Only rooms mapped with Microsoft 365 resources will be available for selection.
All Outlook bookings will be synced with the YAROOMS calendar (and the other way around).
How to use YAROOMS Outlook add-in
For information about using the YAROOMS Outlook add-in, read this article.