This article explains how to organize your spaces into categories and personalize their settings.
Jump to:
1. What are space types and space groups
3. How to create a space group
1. What are space types and space groups
In YAROOMS, space types allow you to define spaces with common booking, invitation, or capacity characteristics. This way, desks can be differentiated from parking lots and meeting rooms.
Meanwhile, space groups are useful if you want to set up different reservation terms and conditions, or booking/check-in strategies within a space type. One space type can have multiple space groups:
| | |
| --- | --- |
| Space type | Space group |
| Desks | Individual desks, standing desks, Legal department desks. |
| Meeting rooms | Conference rooms, IT department rooms, Co-working rooms. |
| Parking lots | Management parking lots, Electric vehicle parking lots, Bicycle parking lots. |

Using space groups, you can implement the following scenarios:
Booking standing desks is allowed only during a specific time interval, QR code check-in required.

Booking individual desks is allowed for a full day, minimum distance between desks in use - 2 meters.

Booking accessible parking spots is allowed only to specific users, at specific time intervals, check-in not required.
2. How to create space types
To create a space type, go to Manage → Space types → Add+
In the "Details" tab, name the space type and define its settings. If you activate the "Is workspace" setting, all spaces of this type will act as single units, bookable by only one person. The best examples of this scenario are desks and parking lots. If the "Is workspace" setting is not activated, the spaces of this type will act as shared units, such as meeting rooms. You will be able to activate the "Enable invites" setting that will allow you to invite multiple people to the booked space.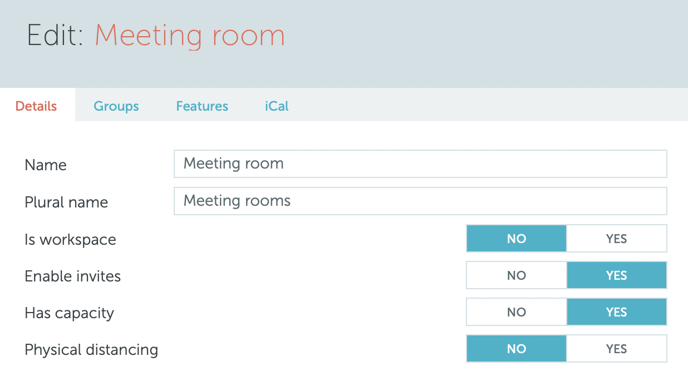 Use the "Groups" tab to create space groups within the space type.
In the "Features" tab, add all features (Audio conference, flipchart, double screen, etc.) applicable to that space type.

Then, move to the "iCal" tab. If you enable the "Attachment" setting, all bookings related to spaces of this type will be automatically added to your preferred calendar. You will receive a notification before the booking starts. If you activate the "Expand full day" option, the full day bookings exported to your calendar will appear as full day events even if the location's schedule is shorter. You can choose the availability status for all iCal events in the "Events availability" section.

3. How to create a space group
After creating a new space type, you can add space groups to it. Each new space type has a default space group (created automatically) which you can edit. You can also create unlimited new space groups.
To create a new space group, go to Manage → Space types → Select type → Groups → Add group+.
Define the group:
1. Details
In the "Details" tab, you can name the group. If "Show name" is set to "Yes", the name of the group will be displayed on the map without clicking on it. This property can be overwritten by the space settings.

2. Booking rules
Here you can define how (and when) the space group can be booked:
1) Working days - select the days on which spaces in the space group can be booked.
2) Booking strategies:
Full day - users can book spaces in the group for a full day.
Intervals - specific users (added in the "Name" field) can book spaces in the group only during a predefined time interval.
Custom - users can select space booking time intervals themselves.
At least one booking strategy is required.
3) Granularity - applies only to Intervals and Custom booking strategies.

4) Time buffer - can be used when Custom interval is active. Enter the number of minutes required between bookings to be used for cleaning, decongestion, etc.
5) Allow incognito bookings - if activated, users will be able to reserve these spaces privately (their details won't be visible to other users).
6) If needed, you can deactivate recurring bookings using the "Allow recurring booking" option.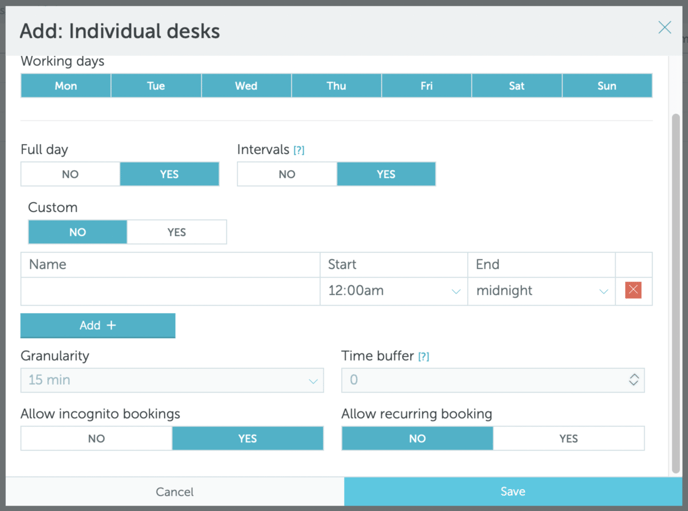 3. Check-in
If you are looking for information about how to configure check-in settings, read this article.
Enable the check-in functionality by activating the "Require check-in" option. Then, select the check-in strategy:
Simple (users will be required to check-in from the browser, Teams, or Mobile).
QR code (users will be required to scan a QR code with the YAROOMS Mobile application).
Set the grace period - the number of minutes until the reservation which was not confirmed by a check-in is canceled and space is released.
If no check-in was performed, a 9 AM space reservation with a 15-minute grace period will be canceled automatically at 9.15 AM.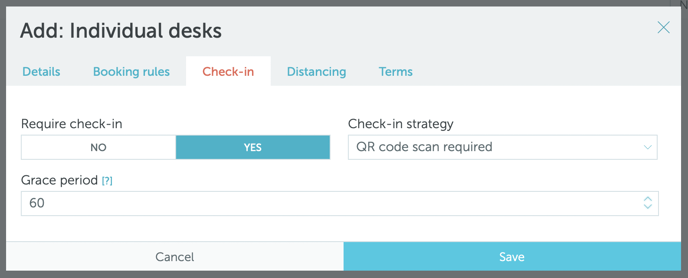 4. Distancing
Define the minimum distance between booked spaces. If you want to disable physical distance, set the "Min distance in m" to zero.

5. Terms
If booking spaces in the specific group requires agreement with terms and conditions, you can include a link to them in the "Terms URL" section. If set, it will ask users to check the "Terms & Conditions" box before completing the booking. The agreement text can be customized in the "Terms text" field.