This article explains what is incognito booking and how to activate it.
Jump to:
2. How to activate incognito bookings?
If you are a user looking for information how to make an incognito booking, read this article.
1. What is incognito booking?
With the incognito booking, users can reserve spaces privately. In other words, if the incognito mode is activated, the booking details (booker's name and profile image, meeting title, etc.) will not be visible to other users (except Administrators, Supervisors, and Location Managers). This functionality also applies to Meeting Room Display and Lobby Display.
2. How to activate incognito bookings?
To activate incognito bookings, go to Settings → Space types → click on type → Groups → click on group → Booking Rules → Allow incognito bookings.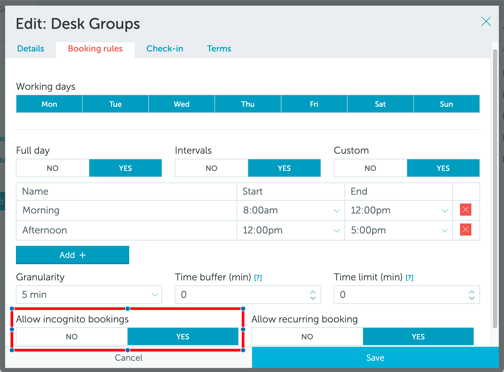 If the field is set to "Yes", the users will be able to make private space reservations by activating a new toggle when making a booking.