This article explains how to add or update a packed Teams app provided by YAROOMS.
Jump to:
2. Add
3. Update
1. Create the app
Go to Manage > Integrations > Teams > Application, and fully customise the app:
Add the app's name, description, and logos in the designated fields.
Customize and add new tabs
When you are done, click the "Download application" button.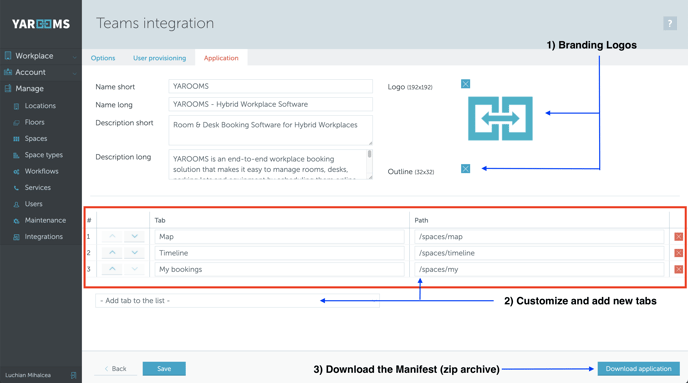 2. Add
Requirements:
An existing Teams integration.
Permissions to access Teams Admin that has an active license for Teams.
A Teams sidebar app which can be downloaded from Teams Integration page (Manage -> Integrations -> Teams).
Add the app: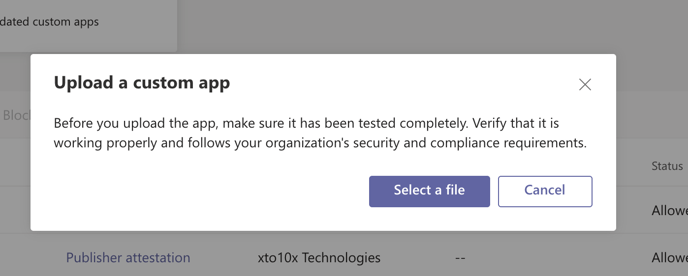 Select the zip file, provided by YAROOMS, and upload it to the system.
3. Update
Locate the YAROOMS app by using the `Search by name` field (the `Custom app` column should have the `Yes` value)

Click on the app
Click on the `Update` button next to the logo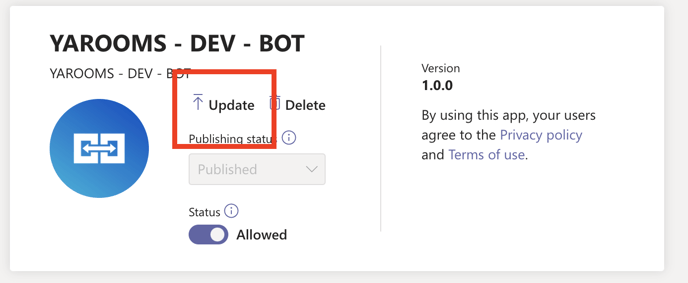 Find and select the provided zip file.

Finally, the app will be visible in Teams, left sidebar.